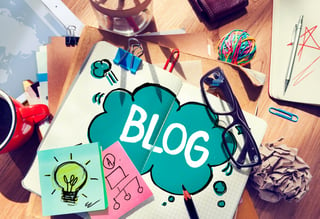 You've updated your homepage, overhauled your website, and made strides in converting your in-store shoppers into online buyers. What else can you do to increase your online uniform sales? Our advice? Start a blog! Publishing content regularly may seem like a challenge—particularly if you don't consider yourself much of a writer. However, the benefits of a strong content marketing campaign can have far-reaching benefits for your business. Here are the top five reasons why launching a blog is a smart idea for your uniform business.
1. Blogging Builds Thought Leadership and Trust
Having useful content on your site will boost your Google rankings and your social shares, but those factors are only a part of the appeal. By creating a blog that is a dependable source of solid content, you will establish yourself, and your business, as an authority or a thought leader in your industry. By providing potential customers with educational and valuable information it increases increases the trust that readers have in your brand, which makes them more likely to buy from you.
2. Creating Content Ensures You Are Easy to Find Online
As mentioned above, good content marketing practices and search engine optimization go hand-in-hand. Using keywords commonly used by your audience in your content will help your business turn up in search results. Doing keyword research around your certain product or service is beneficial to your content strategy as well. When it comes to keywords it's also important to note that it's about quality over quantity. Gone are the days when marketers could trick search engines by stuffing keywords into their content.
3. Blogging Helps to Educate Current and Potential Customers
You might have to establish yourself as an expert in the uniform industry for internet readers, but as an owner of a uniform business, you probably already are an expert. For instance, you know the common questions that uniform buyers have. Your blog is a terrific place to address those issues. What considerations should employers keep in mind when choosing footwear for various types of jobs? When do buttons look good and when are they a safety hazard? There are people out there searching for the answers to these questions. By answering them, you can boost your thought leadership and win new customers in the process.
4. Your Blog Increases Brand Awareness and Is Shareable
Today, customers are using the internet more than ever to research products and services. By answering some of the common questions they might have, you make their investigation process easier. You also create content that is valuable to many people in the same industry. So, if one customer finds your blog and gets the answers they need from it, they might share that blog post with colleagues, business partners or friends on their social feed. In other words, by writing strong content that people can use, you are marketing your business and increasing the awareness around your brand.
5. Your Content Presents Your Company as Interested in Helping—Not Just Selling
Businesses that are always selling something tend to get on customers' nerves. With a blog, you have a new way to be active online other than just saying "Click here to buy our products!" Blogs can be a more charming way to talk to your customers online, and can send the message that you are interested in helping your customers—not just in taking advantage of their purchasing power.
Getting a blog off the ground requires patience and discipline. However, with quality writing and a focus on the content that customers want to read, your uniform business can start enjoying the benefits of blogging in no time.