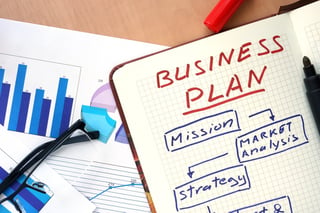 Uniforms are in constant demand for various professions and industries. And, depending on your location, you might find that there aren't that many options for people to purchase uniforms needed for their business and their employees. If you're thinking about how to open a uniform store, we've listed seven steps you need to take in order to successfully open your storefront and start your business.
1. Target a Niche
Before you start your uniform store, you'll need to know what types of uniforms your business will specialize in. Are you going to sell one niche only such as scrubs and healthcare uniforms, or will you focus on a variety of industries like healthcare, construction, and law enforcement? Understanding who your audience is and who you're going to target is step one in getting your uniform store started.
2. Make a Business Plan
All businesses, regardless of your industry or what you sell, will need a business plan. A business plan is a vital tool for laying out how you're going to run your business. Laying out a plan helps you to create goals that you can reach to improve your business and your sales.
Make sure to include the following in your uniform store's business plan:
A detailed description of your niche
Startup costs
Monthly expenses for at least the first three years
A three-year profit analysis
Analysis of other uniform stores - these are your competition
Growth plans
Plans for marketing your business
3. Get the Appropriate Permits
When starting any kind of business, you must have the appropriate licenses and permits to operate. In opening a uniform store, you may need to get a resale permit, an assumed name certificate, DBA (doing business as"), or a sales and use tax permit. Rules for obtaining these permits vary from state to state, so make sure you know the process for the state you live in.
4. Find Retail and Storage Locations
Before you can start your business, you need to have a base of operations. This will obviously vary based on the type of business you're opening but in the simplest sense, if you're opening a brick and mortar location you'll need to look for a retail storefront for your business. If you're going to be operating an online uniform store the you may need to consider some type of warehouse or storage option for your merchandise.
5. Purchase and Personalize Your Merchandise
Purchasing merchandise for your uniform store is a very in-depth topic, and one we won't be getting to in this blog post but is still worth mentioning as a vital, yet obvious, step in starting your uniform business. There are free wholesale directories that have purchasing information for different types of uniforms. Also consider joining the North American Association of Uniform Manufacturers and Distributors (NAUMD) as well as the Uniform Retailers Association (URA) to network with uniform suppliers.
Along with purchasing the uniforms appropriate for your niche, you'll also need to know how you will decorate your apparel. Can you invest in an embroidery machine? Or will you need to find local services that will decorate the uniforms for your customers? Regardless of how, you must have a way to decorate uniforms to cater to your buyer's needs.
6. Get a Website
Today, every business needs a website, and as a uniform retailer you're missing out on a huge segment of business if you can't sell your merchandise online. Many customers want to buy online instead of going to a store, so having an online uniform store is an advantage.
Along with having an online presence, using best practices for your website will go a long way to creating customer satisfaction and trust with your brand. Make sure your website is responsive and optimized for the mobile user, has a clean and professional design, and is functional. Utilize SEO to optimize your site pages for specific keywords that your audience is searching for. Having a business blog is also a great item to house on your website. Blog content will help educate potential buyers and help you get found in search results. Learn more about how UniformMarket can help your business build a (better) website!
7. Market Your Business
There are a number of ways to market your uniform business. Whether you want to stick with traditional tactics, opt more current digital, or utilize a combination of both, UniformMarket can help you in opening your uniform business. Years of industry experience helps us understand the unique needs of individual retailers and manufacturers. UniformMarket can help uniform businesses just like yours. Learn more about what we do.