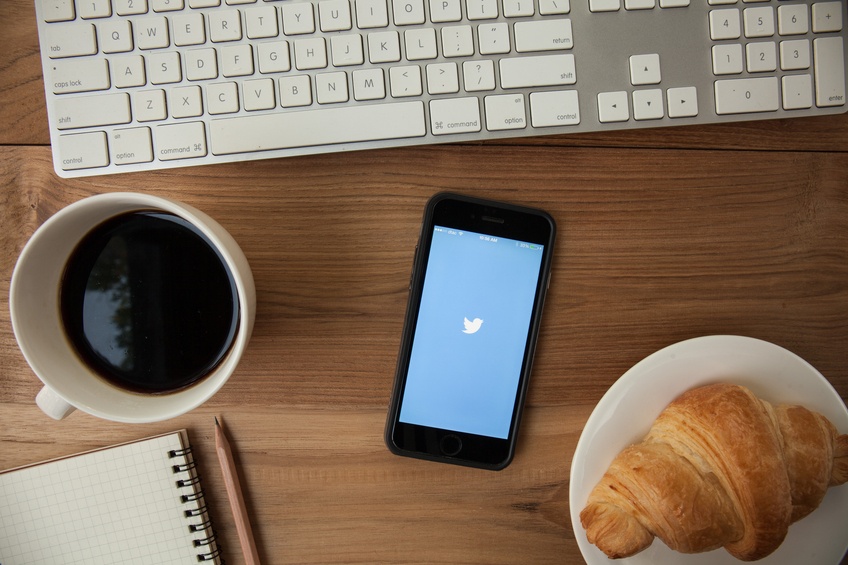 Long gone are the days when social media was used to simply chat with friends and family, share pictures and videos, or stalk former high school sweethearts. Today, social media has become an incredibly powerful (and free!) tool for marketing businesses and connecting with customers. And while marketing through social channels has become the norm, Twitter is still an enigma for many.
We can't recount how many times we've heard uniform retailers ask us: "How should I go about using Twitter to promote my online store?" Or admit they "Just don't get Twitter." If you're nodding your head in agreement, you've come to the right place.
There are more than 310 million monthly users, and according to Twitter, 54% of them reported they had taken action after seeing a brand mentioned in Tweets (including visiting their website, searching for the brand, or retweeting content). With astounding numbers like this, we hope you agree — it's time to take your Twitter game to the next level.
Here's how to understand Twitter's place in your uniform store's marketing mix, and how to harbor the power of this giant to build an audience and grow your ROI.
What to Tweet
If you're wondering "How to promote my online uniform store using Twitter," we've provided you with some inspiration below. But remember, there's no right or wrong number of times to Tweet each day. Instead, focus your energy on creating a content strategy of regular tweets that's relevant to your uniform store audience and authentic to your brand.
Here are six ways you can use Twitter to drive traffic to your website:
Run a contest
This can help increase engagement and boost your follower count

Create a contest-specific hashtag so that you can expand your reach and tap into relevant conversations

Focus on hashtag keywords that are relevant to this contest

Best practice: We recommend using no more than two hashtags per Tweet
Run promotions

with secret codes only posted to Twitter
This helps to ensure your audience engages with you via this platform

Tactics like this will increase your follower count and visibility as a uniform retailer on Twitter
Host #Q&As with industry experts on a specific uniform or product, with offers at the end
Experts can Tweet to customers and vise versa

Interactions like this create excitement and increase your brand awareness
Leverage other users' tweets about the brand and product (retweet) with links
When in doubt, remember this rule of thumb: Whatever you Retweet reflects back on your business and should align with your purpose and values
Use Twitter to share information about new products and services
Tap into Twitter to expand your reach and connect with new and existing customers

Share new products and exciting business news to keep your followers in-the-know
Ask customers to share their shopping experience on Twitter so you can retweet or reply
Retweeting relevant content and replying to Tweets are excellent ways to maintain a strong Twitter presence

Positive customer feedback, helpful articles, and messages that align with your store's authentic voice are all impactful content to Retweet
Best Practices for Twitter
Build an audience
Twitter is a platform for people to connect with their passions, share their opinions, and find out what's happening in the world right now. People on Twitter are open to discovering new things, and as such, they're open to interacting with new businesses.
Follow industry leaders and influencers, search for people who mention your product or business, and ask your current customers to follow you. Remember to vary your content and don't always post about sales and offers. Make sure some of your content is entertaining, educational, and/or humorous.
Include images
Images make your posts more dynamic and are more likely to catch someone's eye in their feed. By adding a captivating image, video, or GIF to your Tweets, you add a touch of personality, and this leads to higher Tweet engagement rates. (People are three times more likely to engage with Tweets that contain videos and photos.) Can't decide which photo to post? You can attach up to four photos to every Tweet.
Include hashtags
A hashtag is any word, or phrase without spaces, beginning with the # symbol. Hashtags are used to organize conversations and make it easier to find all content related to a given topic. Users can click on a hashtag to go directly to the search results for that term. Studies have found that Tweets with hashtags receive 2x higher engagement.
A uniform store in Scottsdale, AZ, for example, might use the hashtag #ScottsdaleScrubs to help organize any conversations about their store. This helps them find Tweet about their business and reply or Retweet as needed. Another example of a uniform-related hashtag would be #LoveWhatYouWear. Perhaps you can create a contest around that, or a Valentine's day promotion?
Include links and calls-to-action
While some still use Twitter purely for entertainment, as a business owner or decisionmaker, you're obviously trying to drive traffic to your site and increase sales. But if every post includes an offer, your feed will appear to be too sales-y and less interesting. Of course, promote sales with the use of compelling calls-to-action (CTAs), but also keep your feed lighthearted by including images and relevant links to industry-related news and events.
Always respond to mentions and direct messages
Online customer service and visible appreciation for an audience go a long way. Not only does it show the person you're responding to that you care, but your entire community can see your reply which shows that you take customer service seriously.
People love to talk to businesses via Twitter, so make sure to be responsive to any questions, comments, feedback and criticisms that come your way. To avoid long exchanges, switch to direct messages (DMs) to resolve private or more complex matters. You can now include a deep link in a Tweet that displays a "Send a private message" CTA to allow customers to quickly and easily send you a DM.
Check your analytics
Now that you're a Tweeting machine, be sure to check your free Twitter analytics to help you understand what content resonates best with your followers. This invaluable insight let's you know what your audience wants to see from you, allows you to experiment with new creative elements and master what performs best.
—
Twitter has quickly risen in rank to one of the most popular social media channels. It's where people share their thoughts, ideas, and passions, and connect with interesting people and businesses.
If you haven't already — it's time you use Twitter to market your uniform retail store. And if your online uniform store already has an account — it's time to up your game to hone the power of the hashtag. By using Twitter, you can inform followers of upcoming sales, exciting events, and share interesting industry news. You'll be able to interact with customers by replying, Retweeting, or direct messaging them, and as always, keep followers engaged by creating contests or hosting expert Q&As! #GoGetEm!

Find out how UniformMarket can build your business. Schedule a demo today.