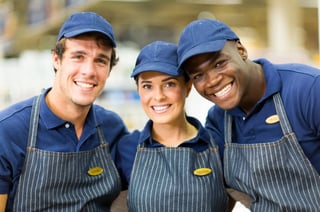 Imagine a world where all employees at any given establishment dressed identical. You wouldn't be able to tell nurses from surgeons, mechanics from salespeople, or supervisors from managers. Not only would this be confusing, it has the potential to be a logical and unsafe nightmare. Read on to understand why it's important to ensure your employees are ordering the right uniform.
Making sure employees order the right uniform can be achieved easily and will save you lots of hassle down the road. It's logistically important for your business to get the uniform order right every time. If you operate in multiple locations, you'll want to make sure that your uniform programs are running smoothly without you having to micromanage. It's also a matter of safety; certain job types need specific gear or clothing options to perform their jobs safely.
Helping your customers and their employees reduce the number of returns is critically important. Returns are bad for everyone. When starting up a new uniform program, or introducing new products into a program, the accuracy of ordering is vital. Shipping the wrong item can destroy the reputation of the uniform provider, even if the fault falls on the shopper for not ordering the correct SKU. Shipping the wrong items results in a delay for the employee to not have/wear the right items, which can be a safety, staffing, and logistical issue.
Tips for making sure employees are ordering the right uniforms…
It's best to be crystal clear to avoid mistakes and subsequent returns. Here are some tips we suggest in order to ensure the right order has been placed:
Show employees EXACTLY what they need and ONLY what they need. Employees don't need to see the entire store's selection when they should be choosing from select items.
Allow shoppers to filter by type or job function. For example, security, construction, electrical, etc...
Avoid showing apparel decoration options that are not appropriate
If the company has many locations, but an employee must order items for only their location, the options should reflect what is required for that location.
Do not present a dropdown list of locations for employee to select. Pre-assign employees to the right location
If an employee works in a particular department and that department wears a specific color, then make sure the employee can only order that color (radiology wears purple, pediatrics wear yellow, etc.)
If there are restrictions on how many items an employee is allowed to order, make sure the website is setup to handle that (employees may only be allowed to order three shirts per year, or per quarter...)
There may be a rule about selecting between three pairs of pant styles, but only be allowed to order two pairs of pants per year. The website needs to handle the rules and make sure the employee is not even allowed to order incorrectly.
For more information about how to manage your uniform programs, subscribe to our blog today!