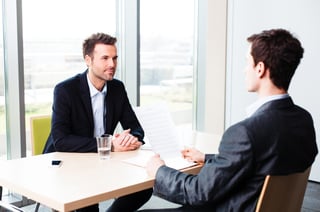 We're all familiar with the saying "good help is hard to find." And in a job market with high turnover rates, it can be even harder to retain the good ones once you get them, which is why we've written this article. Here, we'll cover how to hire great employees, and (possibly) more importantly, how to retain these uniform store employees so that you don't continue to face increased recruiting and annoying turnover costs.
Recruiting and Hiring Exemplary Employees
When it comes to finding and hiring great talent for your uniform store, you may find it's more of a task than expected. The first tip we have is to hire people who can work. What we mean by that is, hire employees who are able to work more hours, not more part-time employees to work fewer hours. It's also a good practice to look for staff members that you think would be compatible working with each other. It's not rocket science that employees who are happy with their environment, and team members, are likely to stick around for longer.
Something else to note — past behavior is an indicator for future behavior. During the interview process, frame your questions around specific situations, and ask how they reacted or handled themselves during that time. For example, ask questions like "tell me a time when you…", "what has been the most stressful situation you have found yourself in at work, and how did you handle yourself?," and other behavioral questions.
Another great tip is to allow interviewees the opportunity to talk and shine during their interview. Make sure you don't do all the talking; ask the question and then listen to what they have to say. Lastly, hire them for who they are. Don't sweat over the fact that they may not know anything about uniforms; THAT you can teach them. Hire them because they are smart, a great communicator, and would be a loyal addition to the team.
Retention Is Key
Once you've gone through the process of hiring the perfect employee(s), you may think your job here is done, but it's far from it. Now is when you work toward retaining such a valuable member of your team. Retaining great employees can be simple. We've shared some helpful tips below:
Two words — company culture. This is what makes working at Google or Apple so fun; employees can take a break to play ping pong, or even do their laundry free of charge. While we're not saying you need to provide laundry or babysitting services, it is important to discuss the company culture within your office and why your uniform business is a great place to work.
Additionally, make sure new employees understand who your customers are, why they want the products, and how helping the customers is helping someone do their job better. The right uniform choice is very important and every step of the process to get uniforms to the wearer is critical. Help them feel a part of the big picture.
Of course, it is highly recommended to train employees based on your standards. This is the only way the staff will learn what you expect, and won't be surprised if you reprimand them for doing something that is not up to par. Another way to train employees about your expectations is to address behavior or issues as they happen, provide regular feedback (good and bad) and reward a job well done.
Finding and retaining great uniform store employees can be a time-consuming process, however it beats re-hiring and training new employees on a regular basis. Studies estimate that it costs 6 to 9 months' salary on average to replace a salaried employee. Other studies predict the cost is even more; costing 2x their annual salary. However you slice it, after putting so much time and effort to find, interview, hire and then train a new employee, it can be devastating to company morale and the bottom line if they leave prematurely. Using our aboveformentioned tips will help to ensure you hire and retain amazing employees.