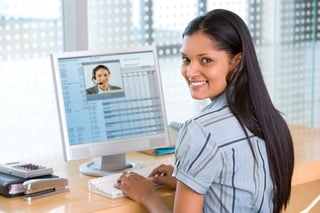 We found a highly untapped tool for your business — live chat support. Having this feature on your website can improve your business and help you gain insight into what your customers want and need from an online uniform store.
We love online shopping. And studies show, so do American consumers. In the U.S. alone, eCommerce is a $220 billion market and continues to grow at an annual rate of 17%. But the trouble with online shopping is your customers lose the personal connection from a sales associate who can answer their questions in real time. Instead of letting potential customers X out of their sites, many companies have turned to online chat support to help convert leads into sales. As it turns out, speaking to a real person in real time has provided shoppers with the answers they need to make educated purchases.
In this post we're going to get into how uniform retailers can benefit from offering online chat support and share with you our secret weapon, Provide Support.
Provide Support Provides Support!
Online Uniform retailers that use UniformMarket can simply install Provide Support, a chat app that we highly recommend. Provide Support is an online service that allows you to chat in real-time with your website visitors. Live chat enables you to give instant online customer support through your website and proactively sell your products and services. From large corporations to small businesses, Provide Support is a revolutionary way of providing a world-class service. With the Provide Support service, real-time website chat has increased sales, reduced support costs and won customer loyalty.
Benefits of Online Chat Support
Online chat bridges the gap between telephone calls and email inquiries, putting you in touch with a real person via an instant message or chat dialogue window; it gives your customers a direct line to your business. Having this support when/if they have questions about a specific uniform, or are having issues with checkout, is monumental. Hundreds of thousands of businesses are implementing this feature across a variety of industries as a way to increase their customer support options.
Live Chat Cuts Costs
Live chat reduces overall call center expenses by reducing average interaction costs. With phone-based customer support, a customer service agent can only handle one call at a time. Live chat highly increases efficiency as online chat support allows for multiple simultaneous chat sessions in which one operator can handle any number of live chat sessions at the same time. In the Provide Support App, each session runs in a separate room tab in the Operator Console. Operators can accept or ignore incoming live chat request by clicking on "Accept" or "Ignore" ("X") button in the room tab. Chat room tabs with new messages are marked with a blinking "envelope" image to attract the operator's attention.
Retain Customers and Convert Leads
Additionally, chat support can help you retain customers. Instead of shoppers bouncing from your online uniform store to a competitor website, they'll have the opportunity to speak to a real person to answer any and all questions they might have. Communication is key, and having this option as an additional method to reach your business will ultimately retain your shoppers and turn them into customers.
If you notice customer satisfaction is low, an online chat feature might help to improve this. According to a 2015 Customer Service Benchmark Report released by eDigitalResearch, only 45% of consumers said they were satisfied with phone as a touch point, with only 26% of which finding this method easy to use. The findings also highlight live chat as the touchpoint scoring the highest customer satisfaction rate (73%) of all channels, due to its ready availability and ease of use.
Reduce Clutter
Online chat can help to reduce email clutter. Let's face it — people hate emailing customerservice@uniformcompany.com type emails. Usually, the inquirer will get a stock reply of "We'll get back to you within 24-48 hours." Great. What if their matter was urgent? What if they just needed one teeny tiny answer and they'd be on their way to submitting an order? What if you just lost the sale because of this? The truth is, email is seen as the lowest of all channels nowadays.
The challenge all customer support agents face when handling email inquiries is all about the need for more information. Typically, an initial customer email does not contain enough information for the agent to provide a resolution. As a result, the agent will have to get back to the shopper with a request for additional details like account numbers, order numbers, product details, etc.
Of course, if the interaction was held in real time, all the information would have been received in a timely manner helping to resolve the problem much quicker. Adding online chat support will dramatically reduce the amount of emails your staff receive.
However you slice it, online chat is an exemplary way to offer customer support for your shoppers. If you're seeking a professional way to make the shift to a more engaging customer support option, live chat is your answer.
Learn more about how UniformMarket can help your online uniform store today.