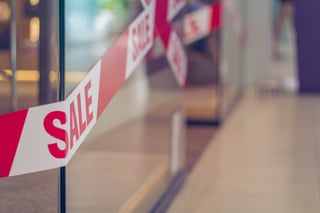 Across the country, shoppers look forward to snagging a great deal during Black Friday and Cyber Monday sales. Though many people are getting presents or luxury items that they "want," some of the best deals on Black Friday are actually on things people "need."
All businesses, even uniform suppliers, can participate in Black Friday and Cyber Monday sales. Uniforms are a definite need for employees who wear them daily, so by offering great deals on these major sales days, you can move a large amount of inventory.
Review and consider your inventory.
First, you need to review your current inventory. Decide what items you need to move and what items are most popular, driving business to your store. These two types of items are often the best to put on sale. The popular items might draw people in where they are tempted by great deals on other inventory. You can also consider putting accessories on sale to act as "impulse purchases" that people buy in their fervor to score great deals.
Design your sales.
Now that you have decided what items to put on sale, you need to plan offers (and be sure to include restrictions on those offers) that help you achieve certain goals. Your first goal is to move stock that needs to go. Next, the sales need to push your shoppers to act within a designated time period. Finally, be sure your discounts aren't too steep and won't have a negative effect on your bottom line.
Plan your marketing.
Now you need to let people know that you plan to participate in Black Friday/Cyber Monday sales. Aim your marketing at your target audience and focus on the benefits to them. Why should they shop that day instead of any other day?
Get the message out.
Keep your messaging going throughout November on your selected advertising channels. You will want to increase frequency of messaging as you get closer to the sales date to ensure consumers are fully aware you are participating and have an idea of what deals they can expect.
Prepare for the hustle and bustle.
Before Black Friday and Cyber Monday arrive, ensure your stock of sales items is ready to handle a higher demand. Also be sure your shopping cart systems have been updated with the sales/offer information. Educate your employees on what deal you will be offering, including the specific restrictions and products that qualify for deals. For optimal success, you need to be sure that you are fully prepared to handle a holiday rush.
Participating in Black Friday and Cyber Monday sales can help a wide range of businesses perform strong in the fourth quarter of the year. Though your online uniform store might not have participated before, you can still get in on the business this year to enjoy a boost in your sales.