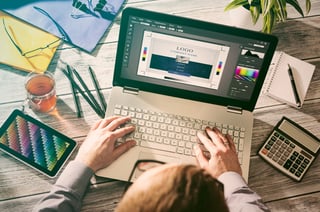 So you've set up uniform product banners for your website, invested the time and money and now you plan to sit back and enjoy the ROI. Of course, you're looking for earth shattering results. Lots of impressions, even more clicks, and ideally, turning those clicks into customers! But you find your results are rather disappointing, and frankly not worth the investment. Maybe you've fallen victim to some common, yet ineffective online marketing practices. To make the most of your online marketing initiatives it's paramount to adhere to the below banner ad design best practices when creating your web ads:
Have a Clear Goal
Before you start creating your product banner ads, you'll want to make sure you have a clear plan. Focus on a specific uniform promotion or product and dedicate your copy and creative to that point. Sure, your company has a lot offer, but keep it simple! Too often companies try to sell everything they have to offer in an ad rather than focusing on one clear and defined selling premise. Your ad is just a step in the selling process, it will lead to more conversations so no need to cram an ad with all that you have to offer.
Additionally, online ads don't offer enough space to fully educate your audience about your uniform products. Rather than trying to give all the details, focus instead on one clear goal of getting the click you need. Once a viewer has clicked on the ad, you can then educate them further on your products.
Ask yourself, "what am I looking to accomplish with this banner ad?" You obviously want to sell your products, but are you trying to increase clicks, grow your database, promote a new uniform, etc? Set specific goals for your advertising to generate the right kind of results and build your ads around those clear points.
Your Creative Should Be Clear and to the Point
While you don't want to be vague, either, most banner ads tend to highlight too many things at once, and that is why a chief banner ad best practice is to avoid saying too much. If you are, or ever have been in a relationship, you know this to be true. Sometimes saying too much to your significant other could be the difference between sleeping on the couch versus in your bed.
The same is true for internet copy. Writing effective banner copy has become an art. It can be difficult to limit your verbiage to a few precise selling points, but the most effective ads are those that are simple, clean, and to the point.
Highlight one specific thing per ad campaign and focus on generating results around that point. You can't promote your online store, newsletter, and a new product all in one ad. This will ultimately lead to poor, jumbled creative and confuse your viewers. Instead, if you're looking to advertise a specific uniform, do that and only that. Have your call-to-action direct the viewer to the product page so they can learn more; you can't expect them to purchase the uniform directly from your ad.
Integrate Your Creative
Make sure you develop creative for a variety of screen sizes and resolutions. Designing banner ads is not simply the act of making a singular graphic. Instead, it is the creation of numerous banners in multiple sizes that will display on many different devices. Think about where your advertisements are living — your website, social media, mobile, and so on as each platform may present different opportunities for you to promote your brand (.gif, video, etc).
Here, the best practice is to work toward maintaining the same message, look, and feel of your campaign whilst still designing to meet the size and capabilities of each ad position.
Test Your Creative
In order to get the most from your ads, test your banner ad design. Bob Arnold, Digital Media & Strategy Lead for Google's own ad buying team, suggests creative testing, wherein you retain the same size banners across the same platforms targeting the same potential customers, but you change the way that you present that product or offer.
"Without testing, creative quality turns into a subjective or even a philosophical debate. Data can streamline the dialogue. Since creative testing isolates creative quality, it's possible to extrapolate which tactics work to formulate a set of best practices," wrote Arnold. Doing this is a great way to highlight different creative elements and see which ones perform the best for your target audience. You may find that they prefer specific verbiage or respond better to different ad creative.
Ways to Develop Your Own Banner Ad
Once you've outlined a clear goal for your banner ad, you're ready to create it! There are so many options for developing your own uniform product banners, but we've found a helpful article that highlights (and walks you through) six different methods for creating your own banner ads. A few of the options are Photoshop, Microsoft Paint, and PowerPoint.
Still Can't Get It Done?
With the ever growing aspect of content creation for SEO and web traffic, it is important to make your banner ads stand out instead of add to the clutter. And while we're sure you're great at what you do, 'graphic designer' might not be in your repertoire, and we totally get that! Sometimes the best business decision is to hire a professional to really help your ideas soar. You know what they say, you have to spend money to make money.
You'll want your banners to include engaging imagery, something that will grab the attention of your audience and encourage them to react. Graphic designers know what works. They are versed on what types, colors and fonts to use. They know that banner ads are designed to create awareness and, if done right, drive traffic to your website. Hiring someone to develop your creative will ensure the ad will be simple visually and in regards to copy, but at the same time captivating enough to garner a reaction. Your audience is probably only going to glance at your ad for a second or two, so if design is not your forte, make sure it's in the hands of someone who can help you catch their attention. UniformMarket is a leading force in this field. We know this industry like the back of our hands and with our team, you'll be in good hands. If you need creative services, we'd love to help. Contact us today!
Banner ads can be a very effective tool for your uniform business, as long as you know how to work this tool to your benefit. Adhering to these six banner ad best practices will not only make your ad stand out from the clutter, but it will increase traffic to your website converting your audience into customers!
Ad copy should be a lot of things. Compelling. Awe-Inspiring. Intriguing. Educational. Perhaps even edgy and entertaining. One thing it should never be? Too cluttered. Far too often, ads will be crammed with too much copy, more images than necessary, and contain far too many selling points. Keeping your banner ads precise and simple have proven to be the most effective form of online advertising.