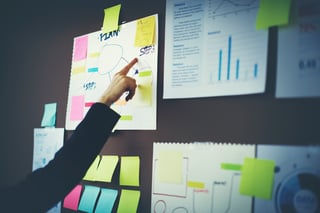 It goes without saying that business owners have a lot to do. As things get busier and busier, marketing is often one of the first things to be overlooked, but it's actually one of the most important pieces for the longevity of the business. As the owner of a uniform store, it is possible to run your business and put in some effective marketing effort. There are, of course, many best practices to follow, so read on below for some of our best tips to creating a uniform store marketing plan for your business.
Follow The Triple Play Rule
Every marketing piece you create should have multiple uses. It's best to follow the Triple Play rule, which means that every asset created should be able to be used three ways. If it can't, then that piece of marketing might just not be worth the effort. Let's look at a coupon example. When you create a coupon, it's likely that you're designing it for a specific media source — perhaps a magazine or newspaper ad. From the start, you should be thinking about other ways your coupon can be used. You should make your coupon in a format that works for print, digital, and social.
Be sure to consider the copy and apply the three C's of marketing — Clear, Compelling, and Consistent — to each coupon. You want to make sure your message is clear, compelling to your audience, and has a call-to-action to urge your customers to make a move.
The design is just as important — you want to make sure your coupon is easy to digest and also created in a format that's easy to manipulate for each media type. Make sure your design is consistent with your brand look and feel, so your customers will notice you across all platforms.
Having an easy way to track and analyze the use of your coupons is incredibly important. You need to be able to easily determine whether your coupon is working to determine if it's worth the cost.
Set It and Forget It
Of course it's important to have strategic campaigns in place, but if you don't have the time and you, as the business owner, are doing all the marketing yourself, try the "set and forget" method. Basically, this means to run ads and marketing that can be set up and then easily tracked and changed, without having to check on them daily. Making it a goal to review your ads once a week or once every other week is a good place to start and still allows time to make the adjustments you need.
You can even make something as simple as a coupon last for a while. For print coupons, be sure to ship them numerous times throughout the period before the coupon expiration date. You'll get a lot more use out of them that way. Regarding magazine ads, make sure the coupon is good throughout the magazine shelf date. The last thing you want is a customer seeing an expired coupon. For any coupon you create, promote it on social media weekly — you can even use a social media planner, such as hootsuite, and schedule posts, so you don't have to remember to send them out.
Review and Analyze
You need to ensure your marketing efforts are working so you're not wasting time on things that aren't bringing in more business. It's important to review your efforts, at least monthly, and check your ROI and the success of your campaigns. Analyze the data you find and you'll have a much easier time planning for the next time frame's marketing efforts. This will help you to stop wasting time on ineffective marketing methods.
Back to the coupon example — If you're following best practices down to the creation and promotion of the coupon, and you're still not getting the results you want, it could be because the actual offer isn't enough incentive for your customers. Once you look at the data and know that you're following best practices, it's time to reevaluate your offer and try something new.
For uniform store marketing, a great marketing strategy to follow is a mix of print and digital. Both are easy to track and can tell you quickly whether you're making the right choices for your business. Follow the above best practices for both offline and online marketing, and your marketing efforts will take you far. As a business owner, you might be busy now, but you want to ensure you'll be busy in the future, too. That's the power of great marketing.