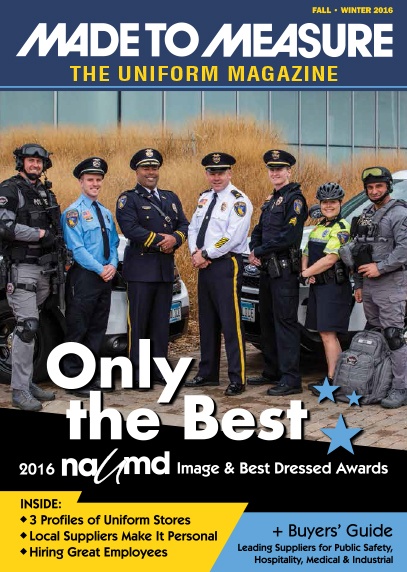 The latest edition of Made To Measure Magazine hit the streets. The Fall & Winter 2016 edition features this year's winners of awards from the North-American Association of Uniform Manufacturers & Distributors. The Image of the Year and Best Dressed Public Safety Awards were announced earlier in the year.
Author Jackie Rosselli describes each of the outstanding winners in detail.
Here is the introduction to the article.
The competitions recognize excellence in uniform wear and design. They also call attention to the important role such apparel plays in brand development, employee morale and the public's perception of those who each day wear image apparel or public safety uniforms to work.
Ten companies earned top honors in the Image of the Year, while four departments topped the Best Dressed Public Safety list. On the supplier side in the Image contest, Cintas was recognized for the 17th consecutive year, earning five awards, including a "best of the best" nod. Affinity Apparel took home two, and Twin Hill, Orlando Universal, Superior Uniform Group and HPI Direct each earned one.
Dealers ruled the Best Dressed Public Safety Competition, nabbing three of the top four awards. And for the first time, the NAUMD recognized the work of two manufacturers, bestowing special awards for their innovative designs.
Curious? Take a look at the full story by clicking here.