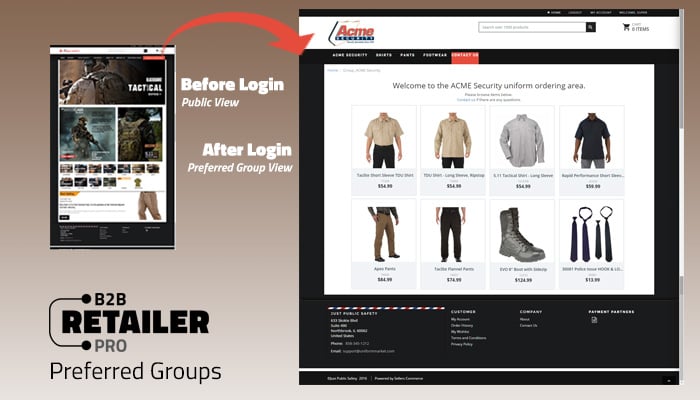 Even the simplest marketing strategy may have confusing results. If your business supplies uniforms and gear, you have likely experienced the paradox of high store sales combined with few online orders. When customers frequently visit your store en masse, you can conclude that there is high demand for your products. And since it's easier and quicker to order online, one might assume that your website would be even more popular. Yet your website receives only a fraction of the orders that in-store customers make. By catering to customers' specific shopping needs with specialized company access, you can boost online sales and establish a consistent source of revenue.
Customer Considerations
As a uniform and gear supplier, you are likely to cater primarily to uniformed professionals. Shoppers come to your store looking for the clothes their employer requires, so if you can determine the specific set of assigned apparel and accessories ahead of time, you can market to them more effectively. Find out all the organizations your customers work for, contact those employers, and ask for details of the uniform requirements for all of their employees. Make sure you know the exact combination of clothes for each uniform, paying attention to the color, texture, and all other significant features of the outfit. Then give those companies specialized access to your website so they can find the items they need with ease.
Specialized access takes the guesswork out of selecting a uniform. Customers will log on knowing that they will be able to find exactly what they need in one place. They will thus have an incentive to rely on your website for all of their uniform needs.
Homepage Categories
One way to provide specialized access is to post product categories on your website. Each category link will be tailored to a different organization, and will contain a link to a selection of uniforms and accessories that professionals in that organization use. This is a common strategy among companies that cater to government agencies and organizations. Ace Uniforms, for example, has links on its homepage for different state and local public safety departments in California. An employee can click on the link for the department he or she works for and will be directed to a page selling everything he or she needs to wear.
This method is ideal for companies that have consistent uniform requirements for most of their employees. It also works best if you cater to a relatively small number of organizations with large numbers of employees. Are there any employers in your area that could benefit from homepage links?
Private Group Precision
Another, more precise way to offer specialized access is by making each organization a preferred group on your website. Organizations with regular uniform needs can access a version of your site optimized specifically for them. The page will contain a list of all the items that their employees need, allowing them to find the required uniforms instantly. With this method, you can give preferences to a much larger number of organizations than you could ever fit on your homepage.
To further optimize your preferred groups, you can create accounts for individual employees or categories of employees. These employees can then access the items tailored specifically to their job. This is ideal for large organizations with different employees who wear a variety of different uniforms. Which of your current or prospective clients would benefit from this feature?
Don't let your website waste its potential. To learn more about product categories, preferred groups, and other strategies to increase online sales, contact UniformMarket today!