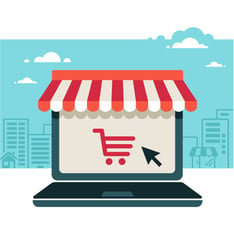 As we all know, making a great first impression is everything, especially in regards to your business. This is even more true in reference to your online uniform store's website. Shoppers that have never been to your store will immediately create that first impression when visiting your site for the first time and it's up to you to make sure that the impression set is a positive one, and one that makes them want to do business with your uniform store.
Of course, there are a number of ways your brand can tell it's story. At UniformMarket, we believe the best websites showcase the brands you sell, is optimized for mobile viewing, and looks fresh and current, not dated. In this post we're going to highlight a handful of uniform store websites that are well done, and why.
Regali Inc. is a uniform business located in Richardson, Texas. Immediately upon visiting this site you can notice that it's branded well. The slider provides the viewer with a variety of photos that showcases the industries they sell uniforms for and as you scroll towards the bottom of the page you can also clearly see a list of uniform brands that they carry and sell.
Not only are they branded well but they do a great job of showcasing the services they offer such as uniform customization and the ability to help consumers create their own uniform program.
Work Clothing Warehouse is another online uniform store that has strong branding, and notice how fast the page loads! Their site is clearly geared towards working professionals, where safety and protection of themselves and others are part of their working environment. They clearly list the brands they distribute and utilize imagery of their verticals very well. Also, notice the responsive design here. Trying viewing this on your phone or tablet now, or simply grab the edge of your browser and adjust the width to see the site stacking and responding to different screen sizes.
A1 Scrubs makes a great use of visual content and their header is very helpful for someone who is looking to start shopping. They're also letting it be known that they can be reached over the phone for help.
Perfect Fit Image really makes use of high quality imagery on their homepage. It's presented professionally and they're also making great use of video content to demonstrate a product quickly and easily for their customers.
Prudential makes great use of a more full screen design. Elements are clearly legible and the color scheme is vibrant without being too loud. This is another great example of a header that clearly displays their verticals and a number of different calls to action. Not to mention their brand story about being a business started in 1932 in their history section.
We chose to highlight these five uniform businesses because they're all very unique and utilize standard best practices when developing their websites. For more information about how UniformMarket can help your online uniform business, contact us today!