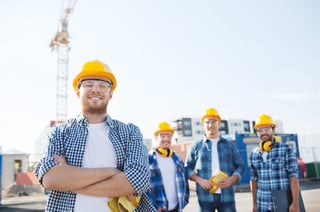 Establishing a standard uniform dress code for your company is about more than looking at what the norm is for uniforms in your industry. While your uniform program may well be based on what similar businesses are doing, you also need to take numerous regional considerations into account. Regional factors, such as climate, will likely impact the uniforms you ask your employees to wear, and while these factors may seem obvious on paper, they aren't always the first considerations that business owners or managers remember.
Combating Climate
When developing a uniform program that aligns correctly with your region, the climate is ultimately the number one consideration. What is the average temperature in your area? How much variation in weather is there throughout the year? Does your area get a lot of rain or snow? Answering these questions will help you put together a uniform plan that will keep your workers comfortable and happy while also making sure they look professional and consistent.
If your employees spend most of their time working inside, the climate consideration won't be as notable. However, if your employees work outdoors, their uniforms might need to change frequently to suit the region, season, temperature, time of day, or weather type.
For these changes, think about layering and variation. For example, outdoor work site employees in rainier climates might need a branded rain jacket to go along with their usual uniforms. Meanwhile, those in areas with quite a bit of temperature fluctuation might require short-sleeve and long-sleeve uniform variations, so that they can "dress up" or "dress down" depending on the heat.
Considering the Jobs at Hand
As you can probably judge from above, the climate isn't the only consideration to take into account when selecting uniforms for your employees. You also need to consider the scope of the jobs that your employees are performing. For instance, a police department might require different uniforms for squad car and bike patrol officers . The bike officer is out in the heat more often and needs to get around on a bicycle, meaning that a uniform with shorts and special moisture-wicking fabrics would be ideal.
We already talked a bit about the difference between indoor and outdoor employees, but it's also worth noting that some employees don't fit neatly into either category. Sometimes, workers will be in the field some days and in the office on others. It might be smart to have a change of uniform styles to represent both settings for these staff members.
Don't Forget Color
When ordering uniforms for your staff, don't forget that colors can be regional as well. Light colors are ideal for outdoor heat because they reflect the sun instead of absorbing it. Dark colors are better suited for indoor employees, who don't have to worry about getting scorched by the sun.
In fact, lighter and brighter colors are just better for outdoor work settings in general, because they increase visibility and help workers stand out. Construction workers, for instance, need to wear bright colors when working near a road or a high-traffic area because doing so keeps them safe. Reflectivity is also important in these settings, as stipulated by the American National Standards Institute (ANSI).
At the end of the day, there is no perfect equation for determining exactly what uniforms your employees should wear. However, by considering the above regional and climate concerns alongside your branding vision, you will hopefully be able to reach a happy medium and come up with a uniform style that looks good and keeps your employees feeling comfortable and safe.