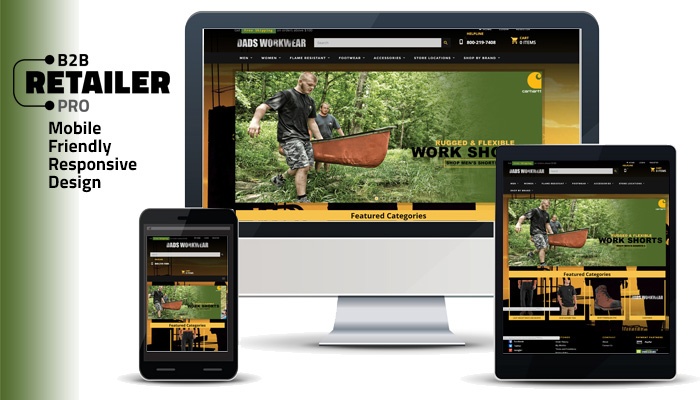 Let's set the stage — you're browsing Yelp on your phone looking for a place to order dinner. You decide on this great sushi restaurant down the street, and go to their website to view the menu. Erg, the menu won't load. You go to click on the phone number and of course, it's not clickable. You think to yourself "do I really need to manually enter this number?" Yes. Yes, you do. You do it, in the name of sushi, but you can't believe that, halfway through 2016, there are still websites that are not mobile friendly!?
Which brings us to our article today — why it's not only important, but imperative, that your uniform website is mobile friendly.
The Importance of Your Site Being Optimized For Mobile Users
The fact of the matter is, the way we shop has changed. Forever. Mobile shopping is no longer a trend of the future, it's happening now. And if your online uniform store is not mobile-friendly you're missing out on a huge market that likes to spend money. According to a recent study, mobile commerce will increase from $72 billion in 2013 to an estimated $245 billion by 2017. If your uniform website is not optimized for mobile, you're missing your piece of this billion dollar pie.
What it's come down to is shoppers are mobile. You no longer need to sit in front of a computer to go online. Increasingly, Americans rely on their mobile devices to shop online. According to Pew Research, 68% of Americans have smartphones, up from 35% in 2011. And those numbers are even larger for younger demographics — 86% of those ages 18-29 have a smartphone, as do 83% of those ages 30-49.
More astoundingly, 84% of shoppers in physical stores use their smartphones to source information about products and compare prices from other shops. If your online uniform store is not yet optimized for mobile use, how would a potential shopper, comparing prices, discover your services and ultimately choose your company to do business with?
Mobile-friendly websites make the shopping experience more efficient, more personalized, and hands down more convenient. We already know that a positive customer experience is essential to any retailer, it ensures they'll return and do business with them in the future. But beyond that, there are added benefits to the retailer's bottom line. Allowing customers to make purchases online means less need to staff cashier positions and a smaller overhead expense. You'll not only reduce labor costs, but eliminate the time and hassle of scheduling a team that is frequently characterized by high turnover and unreliability.
Brick or Bust?
Brick and mortar stores are failing to remain relevant in an ever-evolving market where shoppers are going mobile. The latest to fall victim? Sports Authority. Once the nation's largest one-stop-shop for all your sporting goods, the retail giant announced last month that they will close all remaining stores. Larry Perkins of SierraConstellation Partners, an expert in retail reorganizations, said the store faced competition from big box stores such as higher end retailer Dick's Sporting Goods, as well as online threats from Amazon and websites run by major sports leagues like the NFL and NBA that sell team merchandise.
And Sports Authority isn't the only giant struggling during this shopping renaissance. RadioShack went bankrupt last year, and American Apparel filed in October, although both companies remain in business, just with fewer stores. And staying ahead of the game, even those retailers who have not fallen on hard times are closing their weaker performing stores. Among chains trimming locations are Walmart, Macy's, Kohl's, Target, Sears, and Kmart.
Uniform Websites Doing It Right
While many have made the switch to mobile, we thought we'd highlight some uniform stores that are doing it well.
A medical scrub company out of Iowa
Law enforcement uniform supplier out of Oregon
Industrial uniform website out of Delaware
While all three of the above stores have flourishing brick and mortar locations, a good source of their business comes from their well-made and managed online and mobile-friendly sites. Having the supplemental income allows them to keep their overhead in the store low, and serve shoppers from all over the country, not just those in their small town cities.
At this point, having a mobile site isn't just a best practice, it is an essential part of running a successful business in 2016. UniformMarket has a unique system that gives retailers the simplest tools for building and maintaining online stores. Our platform is designed to help manufacturers and retailers work together, all the while, creating a user-friendly experience for all shoppers.
With UniformMarket, everyone wins — learn about how we can help create, and grow your mobile site today.