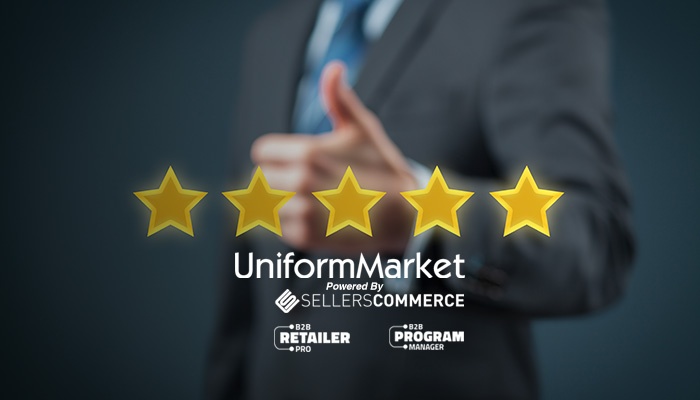 Few services require more trust or entail greater responsibility than building and marketing your website. By hiring a company to publicize your brand, you give them control over the types of customers you attract, your public image, and your likelihood of future success. UniformMarket is proud to have earned the confidence of so many distinguished uniform, footwear and gear companies. Through the following methods, we make good on our responsibilities while reassuring clients that they are right to trust us:
1. Savvy Specialization
We don't call ourselves "UniformMarket" for nothing! Our company has made a commitment to studying the uniform, footwear and gear industry in particular, figuring out exactly which websites and methods are most effective in this field. By specializing exclusively in the uniform industry, we ensure that our technology and advice will be suited to you specifically, providing services that meet your particular needs.
2. Site Support
No sales and marketing resource has more potential for growth than the Internet, which is why we provide our clients with comprehensive advice and support for website design. Whether you need to adjust your visuals, enhance your messaging, or create new features for your online store, we are always on hand to bring your site to new heights.
3. Product Prudence
Uniform standards are always changing, with new technologies, safety regulations, and tastes influencing the clothes that professionals must wear. To help our clients stay up to date on these changes, we offer an extensive catalog of uniform, footwear and gear products. No matter your niche within the industry, safety requirements, or clientele, we can assist with helping you keep the product catalogs on your website up to date.
4. Purchasing Pages
Employees frequently want to set up their own accounts on your site to facilitate purchases, whether by managers or by employees. Our eCommerce platforms help you create purchasing program accounts, allowing you to simplify the process by which clients and their employees buy items and organize payments.
5. Cultivated Categories
Our eCommerce platforms help you set up product groups for your clients, as well as employee groups for your clients to organize their purchaser by any criteria they choose, such as geography, job title, department or calendar rules. This further simplifies the process for your clients to organize purchases and payments. It also gives your clients more control over what employees are allowed to buy, limiting unnecessary or excessive purchases.
6. Customer Considerations
In addition to designing a convenient and attractive website, it is also necessary to know how to interact with customers who are considering a purchase. We provide demos and other training resources to help your employees prepare for their customer encounters. Whether you are preparing new workers or helping seasoned employees improve their craft, we provide the support to do so effectively.
7. Sales Team Training
We offer live demos aimed specifically at your sales representatives. We can assist your staff with bids, process RFPs, and otherwise achieve excellence in outbound sales.
8. Committed Care
The UniformMarket team will take your phone calls! We offer advice and support whenever you need it. In addition to providing free online group training every Tuesday and Thursday, we will also schedule one-on-one classes at the time most convenient to you.
9. Programming Prowess
Our staff has extensive experience writing and editing code. We are happy to build new features for your site, help you link your pages to ERP systems, or assist with your own programming endeavors. By combining our eCommerce SaaS platforms with a team to support your custom web coding and development, we provide everything you need to attract and retain customers.
UniformMarket constantly strives to meet your needs, but our success depends on your feedback. To schedule a demo, make a request, or learn more about websites for the uniform, footwear and gear market, contact us today.