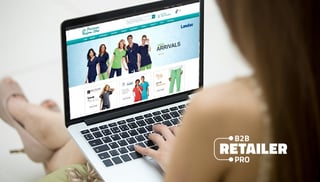 Successful web design is different for every company. The same strategy that allows one uniform marketing firm to excel may be inadequate for another. Nonetheless, given the state of the uniform and gear market in 2017, there are certain features that every website must have. When designing a page, make sure to include:
1. Mobile Management
Over a quarter of visitors are likely to view your site from their phones, and that figure is only expected to increase in the coming years. It is thus crucial that you create a version of your website that is optimized for mobile users. This will both improve your rank in web searches and provide consumers with a more convenient viewing experience, making it easier to attract and retain customers.
2. Attractive Aesthetics
The first thing consumers should see when they visit your site is a pleasant, memorable image. This sets the tone for an enjoyable viewing experience, making customers more likely to remember positively what they saw on your site. The image should also relate directly to your products; an unrelated image will only confuse prospective customers.
3. Nourish Navigability
The easier it is to navigate through your site, the more willing consumers will be to explore it and return to it. Lists, collapseable paragraphs, and nested links all improve the navigability of a web page. As a rule of thumb, the less scrolling that a customer has to do when exploring your page, the better your site.
4. Product Presentation
The higher the quality of your product images, the more interested potential customers will be. For best results, include a "zoom" feature. This will allow customers to gain as detailed a view as possible of the uniforms and gear that they can buy.
5. Provide For Personalization
Consumer customization is crucial in the uniform and gear industry, as it allows companies to set themselves apart from the competition. If prospective clients see that they can personalize the gear on your website, they may make a purchase based solely on that. Your website should thus provide as many personalization options as possible.
6. Social Media Savvy
Social media provides instant access to millions of potential customers. Your website should thus be connected to Facebook, Twitter, YouTube, Snapchat, and all other major social fora. By regularly publishing on these platforms, you will both bring in new buyers and remind past customers of your brand.
7. Prioritize Your Products
The quicker a customer can find a desired product, the more likely she is to make a purchase. Thus if some of your products attract particularly high traffic, put those items right on your front page, reserving secondary pages for less popular wares.
8. Take Traffic Into Account
If a particular page on your site generates higher traffic than the others, determine what sets it apart. The more you identify valuable features and duplicate them on other pages, the better you will be at turning selective increases in traffic into a broadly popular brand.
9. Never Neglect Names
No matter how advanced your website is, you won't fully capitalize on it unless it gathers customers' names, contact information, and other basic data. Thus make sure to include email lists, subscriptions, and other features that allow you to connect with promising customers.
As important as these tips are, they are only the beginning of effective website construction. UniformMarket strives to provide all uniform and gear firms comprehensive advice and support in designing their websites. For more information on making the perfect page for your business, contact us today.