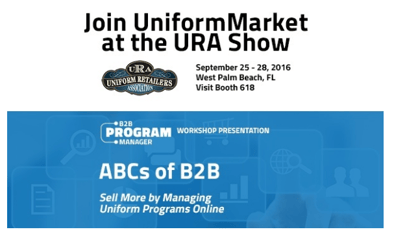 Regarded as the only retailer show in the industry started by independent retailers for independent retailers, the 10th Annual Uniform Retailers Association Show will be a way for hundreds of independent retailers to convene in one place.
Set for September 25-28th in West Palm Beach, Florida, the URA Show kicks off with a series of workshops on opening day. UniformMarket's Rick Levine will be leading a workshop about the "ABCs of B2B- Sell More by Managing Uniform Programs Online" from 3 to 5pm.
In his presentation, Levine will share how to sell uniforms to groups, hospitals, government agencies, and more. Although every uniform company wants to sell or currently sells to groups of all sizes, not every business is knowledgeable in how to meet online ordering and fulfillment. Levine will discuss best practices in ecommerce, including how to create products, set up shoppers, how to assign embroidery options, handling product follow-through, and more.
Along with an impressive tradeshow floor, throughout the week attendees will be treated to educational offerings, special events, and plenty of opportunities to network with like-minded individuals focused on growing their own businesses.
This 10th anniversary show offers retailers a rich learning experience by presenting educational sessions on what is currently driving the industry, as well as a chance to learn from the top market leaders. Practical solutions and best management practices will be shared throughout the show with invaluable takeaways on managing your business better.
When attending the URA show, be sure to take advantage of the Uniform Market 3 Months Free Service special on a uniforms and scrubs website when you reserve booth time. Let us help you develop the website you want with a mobile responsive design, fast-loading images, and automatic supplier catalog updates.
Registration for the 10th Annual URA Show start at $200 for the Sunday workshops or $335 for the full event, which includes the Sunday workshop, Education, a two-day tradeshow pass, lunch for three days, a fashion show, and retailer parties for non-members. URA members may gain free attendance to the tradeshow and Sunday workshop. To register for the 2016 URA Show, click here.