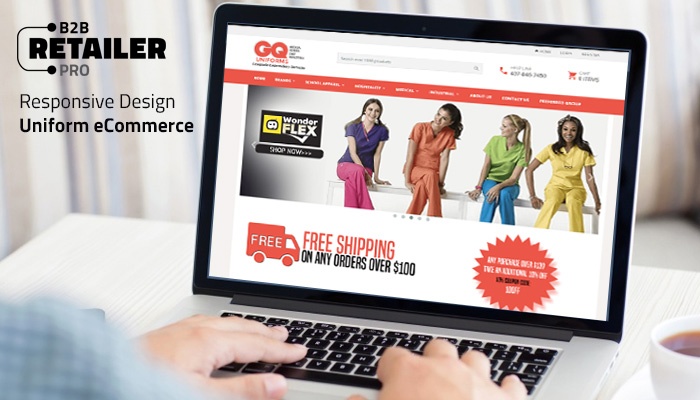 It used to be that simply having an online store gave you an edge over the competition. Today, you don't just need a site to compete; you need a great site—complete with an impressive aesthetic, extra features, a killer user interface, and more. If your order numbers are dropping and you are looking for ways to invigorate your uniform store homepage, consider implementing the ten ideas listed below.
1. Update the Look
Does your website look old or out-of-date? If so, it's time for a change. The look and feel of your website is a direct representation of how interested you are in helping your customers and giving them a positive shopping experience. Websites that look clean and aesthetically pleasing reflect superior customer service.
2. Make It Mobile
In 2015, Google confirmed that, for the first time, more users were searching on mobile platforms than from desktop platforms. If your site isn't optimized for the mobile viewer, you are bound to drop in mobile search ranking. The best option is a responsive site: a site that "responds" to the screen size it's being viewed on. These sites give mobile users the full functionality of your website—no matter what device they're using.
3. Ensure Quick Loading Times
Slow page loading times are a huge driver of abandonment and high bounce rates. In other words, if your website takes three or more seconds to load, you lose a huge portion of your potential customer base. Quick load times are imperative for providing a good user experience, so be conscious of photos, video files, or other large files that will slow down your load times.
4. Make Your Store Easy to Find
Some websites are a nightmare to navigate, with confusing tabs for different sections of the site and no immediately obvious way to reach the web store. Since your online store is the most important part of your website—and potentially the largest driver of revenue for your uniform business—it needs to be the most visible part of the site.
5. Keep It Simple
Cluttered websites are overwhelming and can distract users from heading to your store and making a purchase. In other words, don't load your homepage up with copy, images, or anything that doesn't directly serve a purpose. Keep it simple and make use of white space to draw user attention to your store links and your calls to action.
6. Utilize Calls to Action
Speaking of calls to action, use them! A call to action is the element of your site that is going to encourage users to do what you want them to do. With that fact in mind, think about what you do want from your customers. Do you want them to go to your web store? Do you want them to follow you on social media? Do you want them to sign up for your email newsletter? Is there a specific sale or promotion you want them to see? Calls to action can encourage users to do any number of things, from reading your blog to contacting a representative for more information. Choose a few core calls to action and implement them on your homepage in the form of buttons or graphics that make the user want to click.
7. Make the Necessary Information Easy to Find
You online uniform store shouldn't be the only component of your website that is easy to find. There is other information that your customers need—chiefly, contact information—that you should place in an intuitive and natural location. Don't tuck your phone number, email, address, or hours of operation at the bottom of the page in a tiny font. Make them a clear focus of the page, or offer an obvious "Contact Us" tab so that your users know exactly where to go to get in touch.
8. Make Use of Images
Images not only add to the visual appeal of your site but also provide an excellent way to convey a message and tone instantly. That old mantra about a picture being worth a thousand words is true, so choose images that are appropriate for your business and showcase your products favorably.
9. Change with the Seasons
Frequent visitors will note how often you update your website and will take that information as a statement about your customer service. Amend the look to reflect the season, with holiday or seasonal themes; have an area of the homepage where you can easily change which products or lines are featured; offer deals of the day, weekly featured items, monthly specials, or other promotions themed around seasonal events. These tweaks don't take too much effort, but still encourage visitors to come back frequently to check for new deals and see what's changed.
10. Reorganize a Little of Your Navigation
In a retail store, moving a fixture or rack can generate fresh interest in a well-traveled area. Updates to your website's navigation interface will do the same thing. So try out a few tweaks and see what works. Create "NEW" or "RECOMMENDED" links to your menus, add tabs to advertise seasonal collections, or use colors to highlight different parts of the site. After a few months, remove those tweaks and try something different to keep things fresh.
For most uniform stores, the online store is as vital to the success of the business as the quality of the uniforms themselves. When customers love your website, they are more likely to make purchases, browse around to add extra items to their cart, or come back to buy from you again in the future. By simply implementing some or all of the ideas listed above, you can achieve those positive effects and watch your revenues grow as a result.