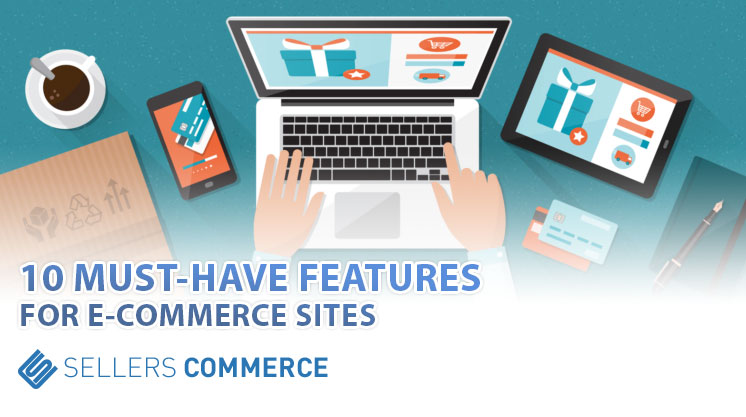 Ease of Use
This comes from the old K.I.S.S. adage about keeping it simple. Simplicity should be a goal in good design and you don't have to sacrifice elegance to achieve it. As a matter of fact, studies show that 76% of consumers say the most important characteristic of a website is ease of use.
The objective is to help shoppers get to what they want, faster and without running into unnecessary complexity that can clog up the path to purchase.
Online uniform sellers have minutes, if not seconds, to make a sale. Focus on the user experience by providing shopping categories, filters, and comparison capabilities. Consider easy-to-find customer reviews and FAQ information to help uniform buyers make decisions more quickly.
E-commerce sites should be a competitive advantage instead of a troublesome experience.
High-Resolution Photos and Video
Gone are the days of posting one photo with a few bullet points and a price tag. Shoppers want to see multiple angles and people using the product in different environments. They want to be able to zoom in and get a feel for the product.
Technical considerations for images are crucial. Images that don't load or take too long to load will see a consumer drop-off rate of 39%, according to Adobe.
Images sell, not text. E-commerce websites should display multiple photos per product. The photos need to be high-resolution and optimized for page load.
Mobile-Friendly Website
Google declared it, so it must be done. All websites are required to have a mobile-friendly version or suffer the SEO consequences. If this isn't reason enough, one in three online purchases is completed on a smartphone.
With a responsive website, content intuitively adapts to whatever device is accessing it to provide the most user-friendly experience. Shockingly, many sites still have not adopted a responsive or mobile version.
User-Generated Reviews
Shoppers read reviews. About 92% of them, in fact. The star rating on a product is the number one factor used by consumers.
You might think that having negative reviews is a sale killer. The opposite is actually true. Having negative reviews can often be a positive. It's shown that products without negative reviews are seen as censored and, in turn, shoppers will assume the positive reviews are fake.
Depending on website functionality, e-commerce sites can use plugins from the most popular review platforms including Yelp, Foursquare, and Facebook.
Special Offers
Most e-commerce sites are using special offers in their standard marketing practices via email, social, text, etc. Next-level e-commerce sites take advantage of the prime real estate in the header section to promote special offers.
When shoppers realize they're getting a special deal, it motivates them to buy more and spend more time searching the site.
If e-commerce sites are using ongoing promotions, providing a unique webpage that lists the offers will not only drive more sales but also improve SEO.
Wish Lists
Oh, how I love wish lists. One for fashion, one for books to read, one for holiday gift ideas. Shop, save, and share!
E-commerce sites that aren't using wish lists are leaving revenue on the virtual desktop table. What's better than having customers bookmark items they want and will most likely buy in the future? That's just gold in the pocket. And a remarketing campaign dream.
It's also an opportunity to share a brand with new buyers. When shoppers share their wish lists with family and friends, it sends FREE traffic with built-in social proof to a website.
Find-in-Store
Not all e-commerce sites have brick and mortar stores. However, those that do must have a find-in-store feature. Sometimes you don't want to wait for an item to ship. Instant gratification.
Shoppers are going online just to research and then complete the purchase in person. This is especially true for millennials, as 72% of young shoppers research online before purchasing in a store.
This makes it incredibly helpful to see which local stores have products in stock.
Related Items
Simply seeing the phrase, "you might like this" causes a serotonin release signaling curiosity and excitement. A related items feature on an e-commerce site creates the desirable stickiness effect that so many marketers strive to achieve.
When an online seller uses a related items feature to sell more, it's actually signaling to the buyer that "they get me".
Related items can also include similar product categories to comparison shop, "people who bought this item also searched for", and so on.
Frequently Asked Questions (FAQ)
Complex purchases require confidence with a seller and detailed information when buying products online versus face-to-face.
FAQ sections also provide a self-help area to address common customer problems. Buyers often ask about product support, returns, lost account passwords, etc.
Social Proof
Brands and online sellers that connect with their buyers on an emotional level create brand trust and advocacy. Social connection is undeniable and the opportunity to bond with an audience is easier now than ever. Linking social profiles and user-generated content with an e-commerce site are must-have features that will give online sellers brand character.
Shoppers are inundated with a constant flow of "buy now" and "get this". It's those brands that engage with customers socially that create customers for life. They are offering products that help others and that people care about.
Social media allows e-commerce brands to show authenticity and associate an emotional connection with their products.
Here at UniformMarket powered by Sellers Commerce, we provide you with tools such as B2B Program Manager and Retailer Pro, which can connect you with the products and data you need for your employees or business. Whether you are a uniform retailer or an energy company needing to fit your employees with new uniforms and gear, we have the tools and services for you. Contact us for a demo today!