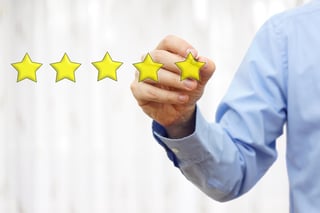 The last time you were deciding on a new restaurant to try, what resources did you use to determine where to go? If you're like many of us in the Internet age, you pulled out your smart phone and cruised reviews of the restaurant on Yelp or Google. If you saw a lot of good reviews of a restaurant, you were probably more likely to visit for dinner that night.
In the digital age, where customers can hop online and read almost anything about your business within a few minutes, positive reviews are one of the most important currencies through which you acquire new customers. Savvy consumers know they don't have to take a chance on a business anymore — they can do their research ahead of time and find out what others have said about it.
And of course, it's not just restaurants. Most businesses, in any industry, are reviewable online. Uniform businesses are no different.
Having a system for obtaining positive reviews, then, is critical for your business. It's not enough to simply hope that customers will leave good ratings; you must know how to consistently ask for and receive positive feedback.
There are a few important, highly visible review sites of which you should be aware:
Yelp: Yelp is 2016's quintessential review site. Of course, most think of it as a restaurant review website, but it's so much more than that. Yelp offers the ability to list any business at all, with details such as address, contact information, operating hours and photos. And we can't forget the reviews: Customers use a star rating system on Yelp (from 1-5) to rate businesses they have used before and are also given the opportunity to leave more in-depth comments.
Amazon: Yes, the biggest Internet retailer also qualifies as an important review site! It's very easy for customers to leave reviews on Amazon, and because they do so much of the world's retail, a series of bad reviews can spell disaster for a business on Amazon.
Facebook: Facebook isn't just a place to connect with high school friends, anymore. In the past several years, Facebook has continued to increase its offerings for commercial customers, including the ability to create and manage a page for your business. On those business pages, customers can leave reviews that are visible to anyone else who might visit.
Angie's List: Angie's List has grown in popularity in the past several years and offers a simple and easy way for local customers to leave reviews about businesses in their area, including small businesses or sole proprietors, like contractors.
TripAdvisor: TripAdvisor is a primarily travel-oriented review site, where consumers can give feedback on businesses in the hospitality field like hotels, restaurants, attractions and vacation rentals.
And there are more than just these few! There are new review sites popping up every day and growing in popularity, which means a positive customer experience should be the focus of every business.
Have you ever wondered how to get customers to leave online reviews? Below, we'll walk you through how a business can create a system to ask for and receive positive customer reviews.
1. Be present on the sites.
Don't assume your customers will do the work of starting to review you on sites like Facebook and Yelp. Make sure you set up and completely fill out your business page on multiple websites, with pictures, information, and personality, to make it more enticing for customers to visit.
2. Make it easy.
Instead of just asking customers to review you, put a link where they can do so on your business card and somewhere visible at your store. Or go a step further: give them a QR code to scan which leads to a URL where they can review your business.
3. Remind customers.
Let customers know how important it is for your business to receive positive reviews. Engage with them authentically so it's easier to remind them to leave reviews, in person and online.
4. Create 'ambassadors.'
You don't always have to be the one asking for reviews, you can recruit help. Review "ambassadors" can be people on your staff or even other satisfied customers who truly love your business.
5. Include links on your website.
This is an easy no-brainer. Instead of just business information on your website, you should also prominently display links to various review sites, with a call-to-action requesting customers leave positive reviews if they've had positive experiences.
6. Post review reminders to your social media channels.
Every so often, schedule a reminder to your social media channels asking customers to head over to the link you provide to leave a positive review.
7. Incentivize (carefully).
Give customers a reason to write a review. But be careful — any offer you provide must be for simple writing a review, not for writing a good review. It can be a small discount or other incentive, but make sure customers know they aren't required to write a positive review, so it doesn't look like you are trying to buy good publicity.
8. Don't ignore bad reviews.
Instead of ignoring bad reviews in the hope that they'll go away, engage with those customers who left them. Apologize for their bad experience and ask how you can help them better in the future. You might also want to offer an incentive, like a discount, for them to try your business again in the future.
9. Thank your reviewers.
Make it clear you appreciate your customers taking the time to review you with a quick and easy thank you. It won't take much time, but it will make a world of difference to ensure the positive reviews keep coming in.
10. Ask in your marketing materials (email newsletters, etc).
Just like posting on your social media, asking for good reviews in your other marketing materials, like your emails, is never a bad idea. It'll keep the review request fresh in your customers' minds.
As you can see, it's not hard to ask for and receive positive reviews from your happy customers. It just takes a little bit of advance planning and effort to ensure you continue getting great reviews.