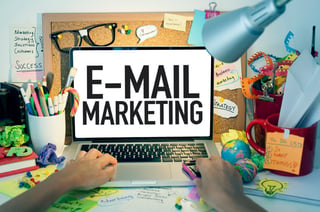 This June, spruce up your marketing e-blasts with these six themes. While June is full of email marketing possibilities centered around traditional retail events, mix up those tried-and-tested sale days with some out of the box holidays to really reap the benefits of email marketing's power and potency.
1. Memorial Day Weekend Sale: May 30
One of the biggest sale days of the month, if not the year, Memorial Day is observed on Monday, May 30th. This holiday honors those who died while serving in the United States' military; it's a combination of both somber remembrance and a celebration of life.
This holiday is a clear match for uniform companies, as most everyone involved in the military must wear uniforms. Additionally, many who work in law enforcement, fire, and EMS served in the military prior to working at public agencies. So tell them you appreciate their efforts with memorial day savings.
According to a recent Goodshop consumer survey, Americans are gearing up to spend at least $100 on Memorial Day-related sales items this season. "53% of consumers who plan to shop on Memorial Day will be looking for sales, both online and in-store. There is no doubt that having a Memorial Day sale is a boon for business this month, " said Goodshop Director of Marketing, Erica Hennes. Make sure to earn your store's share of that market.
2. National Doughnut Day: June 3
Not all holidays are serious and somber. This June 3rd, have a little fun with your marketing by doing a sale for National Doughnut Day! We curated a couple ideas below, just be sure to word it so you're not offending anyone:
"Hey, officers, ready for a break? We will have a free donut waiting for every law enforcement professional who shows up to our store in uniform on June 3rd for National Doughnut Day."
Those jelly doughnuts can be so messy! This National Doughnut Day, if you dropped a little jam on your uniform, stop by our store for 20% off your next uniform set — June 3rd only!
3. Flag Day: June 14
On June 14th, we observe Flag Day. This is a day for all Americans to celebrate and show respect for the flag, its designers, and makers. The American flag has a proud and glorious history and as such is representative of our independence and our unity as a nation. As a result of its importance, many people have died protecting it.
There are so many uniforms that include flag emblems. We'd even venture to guess that the American flag is the most ordered emblem in the uniform industry. On June 14, send an email blast that centers around Flag Day, and highlight some great American flag emblems that you sell. You can even include some flag facts, how to properly display our flag (below), and/or outline some other famous flags and their history. Remember to always link back to your uniforms and your audience.
The flag is normally flown from sunrise to sunset.
In the morning, raise the flag briskly. At sunset, lower it slowly. Always, raise and lower it ceremoniously.
The flag should not be flown at night without a light on it.
The flag should not be flown in the rain or inclement weather.
After a tragedy or death, the flag is flown at half staff for 30 days. It's called "half staff" on land ,and "half mast" on a ship.
When flown vertically on a pole, the stars and blue field , or "union", is at the top and at the end of the pole (away from your house).
The American flag is always flown at the top of the pole. Your state flag and other flags fly below it.
The union is always on top. When displayed in print, the stars and blue field are always on the left.
Never let your flag touch the ground, never...period.
Fold your flag when storing. Don't just stuff it in a drawer or box.
When your flag is old and has seen better days, it is time to retire it. Old flags should be burned or buried. Please do not throw it in the trash.
4. Father's Day: June 19
One of the most widely celebrated holidays, Father's Day falls on June 19th this year. And just think — how many of your customers that wear uniforms are also Fathers? Show them some love and email them a gift or special promotion. How about a free baseball cap with any purchase over $50? Is there a hat that just screams "we appreciate all the dads out there?"
Your Father's Day email campaign and sale can follow patterns similar to something you might do for Mother's Day. First, you can send a set of uniform suggestions. Follow up with special or exclusive offers, reminding last-minute shoppers, and finally offer a message meant simply to honor dads.
5. Summer Solstice: June 20
Also known as the longest day of the year, the Summer Solstice falls on June 20th this year. With this not-so-celebrated holiday, get creative with your marketing with something like the below:
"The work day can be long, and those that wear uniforms often have jobs that require the most labor. Industrial labor, construction, law enforcement, nursing, etc. On this, the longest day of the year, let's celebrate those in uniform!" Then offer uniform wearers a special promotion, discount, free gift, etc.
6. Paul Bunyan Day: June 28
Paul Bunyan Day celebrates American folklore and stories about the legendary lumberjack Paul Bunyan. It is loved and celebrated by those who enjoy a great story, don red flannel shirts, and dream of owning a giant pet ox.
This is another non-traditional holiday, but why not cash in when other uniform stores aren't? Try an email blast like this: "Workwear has come a long way. The average construction and utility workers who climb poles or needs to spend hours underneath city streets, are likely far more comfortable than the days when Paul Bunyan was out working at the lumberyard. Here, at (YOUR COMPANY HERE), we celebrate the workers who wear industrial clothing and praise their hard work." You can then offer discounts or special promotions on construction/ industrial uniforms such as Dickies, Carhartt, and Bulwark products you sell.
Remember, email marketing works. Dozens of retailers have been collecting statistics for years showing that email is among the most effective marketing tools available. And now, it's time for you to put your email marketing to work! While we suggest you don't limit your June emails to these six ideas, you will likely want to include a least of few of these.