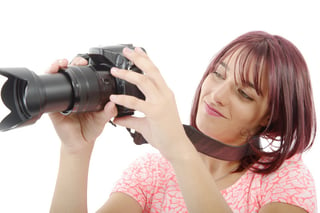 An attractive website can make a big difference when it comes to your online presence and the success of your site. The content is very important — it's a chance for you to connect with your customers and establish trust. The imagery on your site says a lot about your brand. Take a look at your competitors' websites. Do they have general, stock product images? You want to make sure you differentiate your site from the others and give your customers a great viewing experience.

When it comes to finding high-quality photography, you typically have to purchase it due to licensing laws. You can't just take images from Google or a competitor, as you'll be exposed to significant risk. Remember, just because a competitor is using an image does not mean they have the rights either. Buying high-quality imagery can be expensive and doesn't set you apart from other sites; that's why you should begin taking your own images for your website.
What Type of Photos Should You Take?
It is perfectly fine to use photography supplied by a manufacturer when displaying their products on your website. In fact it is almost required in order to show the thousands of color and print combinations available in uniform industry catalogs.
But, taking your own pictures can help you go beyond the duplicate manufacturer images found on many websites, and bring personality to your site. You own the rights to your pictures, so you don't have to worry about licensing laws, and you can use the photos anywhere — website, emails, and social media. If you're stuck trying to determine what to include in your photos, here's a few ideas to get you started:
Take pictures of your store.

Show your customers what they can expect and how purchasing from your store is a great experience.

Take pictures of your team members.

This shows a sense of loyalty and family within your team. It will make customers want to work with you and potential employees want to work for you.

Take pictures of your product displays.

This is a great alternative to generic product photos. Be creative

—

it will show your products in a new light to customers.

Take pictures of your products in store and sell them online.

It's an easy way to showcase every piece of clothing you offer.

Take pictures of events.

Again, show your customers that your team has fun and loves what they do, as well as showcase your product in a different environment.

Take pictures of your customers shopping.

This will show other potential customers that your store and products are desirable.
Tips to Take Great Photos for Your Site
Get the right equipment
It's best to invest in the right equipment for taking your photos, rather than using a point-and-shoot camera or your phone. Today's phones take high quality pictures, but yours should look professional and you'll want a DSLR camera to achieve the highest quality if possible. This is an initial investment at first, but you'll end up saving money over time doing photography in house, rather than continuously buying stock images or paying a professional photographer.
Perfect your lighting
If your store has poor lighting, the products will not be featured at their best. Open the blinds and take advantage of the natural lighting through the windows — especially around sunrise or sunset when the light is not direct. If natural light isn't an option, you can buy a photography light. For the best results, invest in or create a solid white background. Learn how to create that here.
Use models or mannequins
When taking photos of clothes and products, use your resources. If there are employees comfortable in front of the camera, have them model clothes. If you'd prefer not to have people in pictures, professional shots can be taken on a mannequin.
Adjust your white balance
An image's white balance can make a significant difference in photos. Correcting the white balance can take a photo from dull to bright and enhance the way the product stands out. Each camera works differently, so check the manual for directions on adjusting the white balance. Also consider investing in an editing software such as Adobe Photoshop or Lightroom for further editing.
Taking your own photos can increase the attractiveness of your website and enhance your products. Utilize the resources you have… Does an employee practice photography in their spare time? Does anyone enjoy editing photos and do it well? When using original photos, you won't have to deal with licensing issues, but you'll want to ensure others aren't using these photos without your permission. Clearly state on your website that you own the rights to all images and that they are not for the use of others. We hope this article helps you take great photos for your site and enhance the products and items you feature.