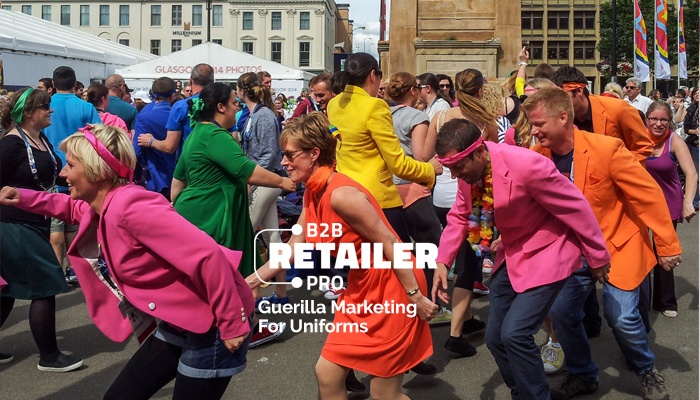 Internet efforts may constitute the majority of most uniform companies' marketing efforts, but in-person approaches can prove just as effective, especially for retailers wondering: how can I quickly promote my local store?
Affordable and deeply resonant with prospective customers, guerilla marketing involves unconventional tactics. Famous examples outside of the uniform industry include the infamous golden shoes at the 1996 Olympics and a coffee shop haunting prior to the release of the film Carrie.
Guerilla marketing can take many forms in the uniform industry. Not sure how to amp up your in-person marketing efforts? Give these impactful tactics a try:

1. Flash Mob — In Uniforms
Many companies use flash mobs to generate pedestrian traffic. Take the effort a step further and have flash mob dancers show off your latest uniform designs. This is a particularly valuable tactic if you sell activewear — prospective customers can see for themselves how your uniforms look on real people. For even greater visibility, adapt the choreography from your flash mob for use in a local parade. Create a colorful float to complement the uniforms, and get ready for a flood of new business.
2. Stage Your Own Fashion Show
Depending on your industry, you may aim for fashion-forward clients and customers, who appreciate and are willing to invest in the latest uniform trends. Get them involved in a fashion show, featuring their top employees. Bring community into the fold by sponsoring a fashion show for local artists, and then highlighting the stylish touches in your uniforms and accessories.
3. Full-Building Paint
Looking for a less drastic way to capture attention? Consider hiring a local street artist, who can quickly transform your storefront from boring to colorful. Your new mural should reflect your brand and the style of uniforms or gear you sell.
4. Virtual Reality
Virtual reality may one day be a top marketing approach, but right now, retailers that utilize VR remain on the cutting edge. Through VR marketing, you can demonstrate your company's technologically-advanced status, while also improving brand awareness. For example: provide customers a closer look at the environments in which employees might wear uniforms. From ski slopes to corporate settings, the opportunities are endless — and thanks to recent price reductions from Samsung VR and Google Daydream, surprisingly affordable.
5. Unique Mannequins
The Mannequin Challenge's heyday has come and gone, but your store can still use mannequins to great effect. Find unique ways to present clothing on your mannequins, or have them interact with one another. Props can greatly enhance your efforts. For example, if you're advertising uniforms for chefs, give your mannequin a white hat, a silly mustache, and a food prop such as a loaf of bread or a pizza. Swap out the props or poses occasionally to keep regular visitors interested.
Whether you desire the shock factor of guerilla marketing or a more conventional approach, you can count on UniformMarket powered by Sellers Commerce. Get in touch today to learn more about marketing opportunities for uniform retail stores.