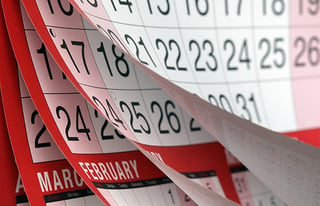 In uniform marketing, the key to success is to present unique, engaging campaigns all year long. It's easy to get bogged down selling the same wares season after season. The following monthly email ideas are sure to inspire you, giving you the creative energy to provide fresh, enjoyable content for all your products:
January: New Year Novelties
To ring in the new year with creative clothing, mail medical professionals a "buy one, get one free" offer for their scrubs. Highlight your wide selection of different scrub prints and colors, spurring customers to mix and match different styles each day of the month.
February: Carry-On Comfort
Who says winter has to be cold and dreary? In this month's mail, emphasize the comfort and warmth of all of your wares. Even if a product is not specifically designed to keep customers warm, advertise it as an accessory to the warm items, helping them to remain stylish even in multiple layers.
March: Accessory Activation
This month's mail will highlight the value of uniform accessories. Scarves, socks, belts, hats, and other items add flair and sophistication, making even the most mundane outfits look beautiful and unique.
April: Spring Awakening
Spring is a time of rebirth and new ideas. To stay true to the season's promises, mail a list of new uniform arrangements to keep restaurant staff looking stylish. Try arranging the restaurant's traditional colors in unique patterns, giving customers something new to look at without breaking continuity with the past.
May: Cool Construction
As summer approaches, construction workers often fear working outdoors in the heat. Give them a solution they're looking for with an email emphasizing the comfort and breathability of your construction uniforms. Explain how you make uniforms flexible and cool, providing comfort without sacrificing style or safety.
June: Culinary Considerations
June is vacation season, and that means kitchen staff are working day and night. Maintaining good hygiene is difficult under such conditions, so send out an email offering tips on staying clean— with a focus on how your aprons and kitchen uniforms provide a powerful barrier against dirt, sweat, and bacteria.
July: Police Pride
In emails leading up to Independence Day, emphasize your police uniforms that leave space for medals and commendations. Police officers will be proud to show off their marks of merit, demonstrating their great service to keep the country's streets safe.
August: Fire Safety Savings
As August heat raises the risk of fires, show local fire crews gratitude for their service by mailing them coupons for new uniforms and safety accessories.
September: Back-To-School Selections
Spur school staff to experiment with their outfits by offering a coupon for new accessories. Explain that a stylish, sophisticated look will leave a powerful impression on students and co-workers alike.
October: Halloween Happenings
Who says you can only dress up for Halloween outside of work? Send customers images of black and orange uniforms and accessories, demonstrating that they can look professional and festive in a single outfit.
November: Ski Savvy
As temperatures drop and ski season approaches, alert winter sports employees to the warm, flexible outfits they need to do their jobs safely.
December: Lab Coat Luxuries
Give the gift of science by mailing a holiday coupon for lab coats and accessories. Doctors, pharmacists, and scientists will go into the next year with the outfits they need for clean, effective work.
Whatever your clientele, the better you are at crafting fresh emails, the more engaged your customers will be year-round. To learn more about spurring sales and meeting customers' needs, contact UniformMarket today!