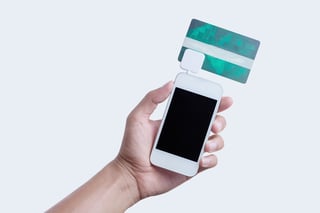 In the past, many small business owners have lost more than a few uniform sales because they only took cash or checks for payment. That time has come and gone. Thanks to transactions made possible by Square, a credit card processor, the way uniform retailers do business has been not only revolutionized, but streamlined.
Retailers who use Square, a small credit card reader that attaches to either your smartphone or iPad, can now also use the service just like a traditional merchant provider and gateway. Read on to discover the benefits of adding Square to your repertoire.
Benefits of Using Square
Simple and Convenient For In Store Use
Amongst other benefits, using square is simple. Whether you're just looking to take payments or take care of your entire business, Square can help. Compared to passe and clunky POS systems, having square frees up valuable counter space for your company to display more products, making it a convenient outlet to acquire last minute, add-on purchases.
Optimized for Uniform eCommerce Software
B2B Retailer Pro website users will be happy to hear that they can easily add Square to their online uniform store as a payment option! Having this feature allows retailers to not only accept payment anywhere and at anytime using the smartphone attachement (think special events, conventions, etc.) but now, they can attach the same account they use anywhere as the payment gateway in their online store at Sellers Commerce and UniformMarket.
Affordable
Square has revolutionized the payment industry by offering one rate to all business owners.
While credit card transaction fees can amount to hundreds or thousands of dollars each month, Square charges a flat 2.75% transaction fee per swipe or a 3.5% fee plus 15 cent surcharge when transactions are keyed in manually.
Because many competitors' fees are complicated and difficult to understand, small business owners can rely on the simplicity of Square's fees. With keeping costs low as an important factor for any small business, the affordability, transparency, and simplicity of this pricing plan is attractive to many merchants.
Analytics Provided
Square provides free advanced analytics for businesses, including an online dashboard that tracks detailed sales data. With these figures, you can make more educated, informed and insightful business decisions. Merchants can look at charts that analyze day-to-day or monthly performance, tracking what items are selling well and when stores have the most customers.
These analytics can help businesses make efficient decisions about stock orders, store hours, as well as staffing needs.
Knowing what sells best, finding out when funds are deposited, and seeing your bottom line at a glance is invaluable data. Square also allows you to get to know your customers better. With the free analytics, you'll know how much they spend and how frequently they return.
Additionally, you can get detailed data on all your locations, employees, and items. As well as download CSVs to make bookkeeping easier. Even when you're not around, you can sign in at Square.com or download the free Dashboard app for iOS to track your sales from anywhere.
Like it or not, there has been a shift away from using cash and checks. A recent study by Nilson Report expects that cash and check payment volume will decline by 24 percent and 46 percent (respectively) in the United States by 2018. The same study projects that card-payment volume will increase by more than 50 percent in the same time period. So with Americans increasingly paying electronically, it's worth making sure your company is setup to accept all forms of payment.
Are you ready to move your B2B business forward with innovative eCommerce solutions from the uniform industry experts? Learn how today.
UniformMarket is an expert in the uniform industry. Contact us today to see how we can grow your online uniform store.