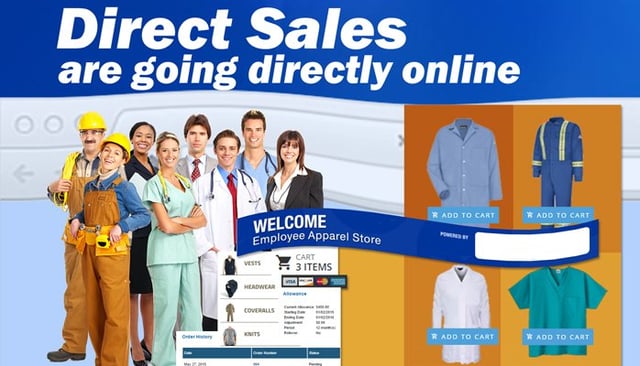 Industrial laundries are embracing online direct sales programs
Every industrial laundry faces questions about how to handle customers who would like to purchase uniforms and merchandise directly. It is exciting to add revenue to the top line without having to add more routes. There is plenty of opportunity in this area. And the trend is to facilitate these transactions using online eCommerce websites.
You know the type of customers we mean, right? You likely have hospitality accounts that launder linens and chef uniforms, but ask if they can purchase aprons and polo shorts outright. There are also automotive accounts that need mats and towels every week, but every few months ask for some promotional product giveaways and logoed shirts for the sales floor.
These relationships are typically called Direct Sale Programs. They can be one time transactions. Sales that occur and never happen again. Or the orders might happen a few times a year, where accounts order new apparel with the change of seasons, for example.
There may also be customers that request you setup a way for all their employees to login and order their specific uniforms. Tens of millions of employees in the United States wear uniforms according to rigid corporate specifications. These corporate or government agency purchasers may need each worker to have an annual allowance which you need to keep track of. Each employee gets $500 per year to spend on their uniforms.
They may have allotment rules related to their garment, accessory or equipment purchasing. Housekeeping wears specific dresses. Servers are required to wear certain shirts and pants depending on their job site location, and orders may require supervisor approval before they can be filled.
For some accounts there are considerable business rules associated with employee purchasing. There are union rules, state laws, complicated shipping or delivery options and more. Each employee may be required to order specific items based on their job description.
All these factors roll up to form what is called a Managed Program. When an industrial laundry and uniform buyer agree to have all sales go through the laundry for specified products, controlled prices and contracted time period that is a managed program.
The entire process of ordering and tracking can be facilitated using online stores. Today's ecommerce tools offer the flexibility to meet even your most demanding customer's business rules. And here at UniformMarket we have seen our share of these complex requirements over the past 10 years.
The biggest questions an industrial laundry and their customers usually have is how these purchasing programs will benefit each organization.
Why use a Managed Program?
Managed Programs offer more consistent looks for employees because products are specified and coming from one supplier, not many.
Customization for each employee is handled by same company.
Managed Programs offer better inventory control.
Managed Programs keep costs in line for the end users and improve margins for the laundry when they buy in bulk.
What is involved in managing a Managed Program?
Managed Programs offer great customer service opportunities.
You typically provide your buyer with a dedicated online store to place orders.
You offer telephone and email support.
You manage product fulfillment, either supplier based or in-house.
You handle returns.
Who should you talk to about a Managed Program?
If you already specialize in a specific area of the uniform industry, you should look for potential opportunities there.
Any business that "requires their employees" to have specific apparel or equipment would be appropriate for a managed program.
Examples might be doctor's offices, restaurants, security guards, airlines, utilities and police.
How do you talk about a Managed Program to your customers?
You'll be simplifying their life by managing sales and delivery for them.
They can feel confident that their employee's purchases will be consistent.
Controlled Costs. Agreed upon pricing will ensure more controlled costs.
Dedicated Services. The program you run for them will be just for their business.
They will be able to easily track business activity through a Managed Program, leading to more information and transparency.
Creates a mutually beneficial relationship that strengthens business objectives for both of you.
Product Availability. You make a commitment to your customer's inventory thereby guaranteeing their product availability.
Direct Sales and Managed Programs are not new concepts for most industrial laundries. But the ideas we have laid out here will hopefully inspire you to start up a direct sale package within your laundry operations. Or, you may already offer these types of relationships with your customer.
We recommend your next step be to setup a demo with UniformMarket to see how these Managed Programs can be deployed using dedicated online stores. After that you can identify current customers that may qualify for a Managed Program. Or perhaps there are customers already asking for this type of arrangement. In either case you will can prepare yourself to identify potential prospects and start a sales campaign to build your direct sale revenues.
Let us show you. Visit www.uniformmarket.com to schedule a demo. Call 858-345-1212 or email sales@uniformmarket.com