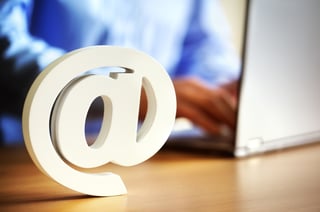 According to MarketingSherpa, 91% of email readers actually like receiving emails from businesses like your online uniform store and understanding email marketing best practices can help you attract these customers and make a bigger impression in their inbox.
One of the first questions businesses ask when starting out with email marketing is "how much is enough?" But that's actually the wrong question. Instead of focusing on how many, focus on timing. Send the message at the same time or on the same day so customers know when they will hear from you. With that said, more is often better, so consider emailing as often as your customers want to hear from you. You can also sign up for your competitors' email lists and note how they manage their messages.
Segment Your Audience
Your online uniform business may supply a wide variety of products for different professions and industries. To tailor your marketing message more efficiently, segment your lists to distribute the correct information to those that it's most relevant to. You will likely know which subscribers are in healthcare industries, industrial, law enforcement, etc... which will give you a great idea of who to send what messages to.
But, if you are unsure, consider asking customers, when they sign up, what they are interested in and/or their industry to allow them to select multiple email lists that they wish to be a part of. This will ultimately help you with…
Personalization
Personalized emails are a great way to increase clicks, opens, and engagement with your marketing overall. For example, sending medical customer emails about a promotion on scrubs or your law enforcement customers emails about that latest tactical gear. Sending mass emails to your entire database does not allow for personalization but by taking the time to create relevant content for specific audiences you're likely to see engagement with your emails skyrocket.
Create Engaging Subject Lines
Subject lines are some of the hardest aspects of email marketing to nail but are the most effective way to get potential customers to take the next step, opening your email. Hubspot's look at email subject lines that are opened the most reveals that questions are a great way to drive up interest (such as "Is your practice looking for new scrubs this season?" or "Are you aware of the latest trend in tactical gear shirt options?") Either way, subject lines need to communicate what your email is about quickly and simply or you risk emails being sent to the trash without even being opened.
Use Automation!
Automation should also be a part of your email marketing process. We are referring to using automation to trigger certain emails based on an action certain contacts take with your business. Did they fill out a contact form or voice a complaint? Try sending an automated email that lets them know that they've been heard and someone from your organization will be in contact with them in the next 24 hours. Using automation allows busy uniform company resources to spend less time sending out individual emails and provides shoppers with the comfort of knowing that they will get resolution for what it is they're looking for.
Offer Valuable Content
In order to keep your customers from unsubscribing or blocking your communications, you must consistently offer content that is engaging to them. This could include anything from discounts and promotions to addressing hot issues in the uniform industry. Kissmetrics states that using relevant and attractive imagery along with social media share buttons, and larger calls-to-action will increase click through rates dramatically.
A/B Test Everything
If you're unsure of what will work with your audience, try A/B testing to determine what type of marketing your audience prefers. This may include pictures vs. text, or catchy subject lines vs. more simplified ones. Just be sure to only test one element at a time to ensure that you know what is causing the changes in results you're seeing.
Track Your Email Performance
Finally, with each email sent, monitor the results. You will want to see how your emails are performing in order to be able to accurately make changes into the future and further optimize your marketing efforts. Common performance metrics include click and open rates but you can also look at your delivery vs. opens, and even the unsubscribe rate of particular emails.
Emails That Work for You
Utilizing email marketing can help your online uniform store reach new customers and engage with your loyal ones. By testing what works, what doesn't and providing content that appeals to your audience, your emails can become one of the most effective parts of your marketing. Looking for help with your email marketing strategy for your online uniform store? Contact someone at UniformMarket today for more information on how we can help!