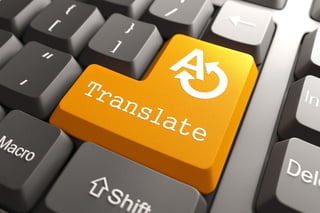 No one will argue that English is a popular language. But did you know it's not the MOST popular language? There are more than 7,000 languages around the world, and according to multiple sources, English just barely makes the top three as most common language in the world. According to Accredited Language Services, Mandarin tops the list with more than 955 million speakers, Spanish is second with 405 million, and English rounds out the top three with 360 million speakers.
While scholars have named English as the world's "most influential language," in light of these figures, as a uniform retailer it behooves you to consider making your online store multilingual. In this post we'll highlight how to make your site multilingual, and how it will benefit your bottom line.
How To Make My Site Multilingual
UniformMarket offers to help install and use Google Translate as a tool for making sites multilingual. This free plugin can instantly translate your web store into more than 100 languages, making your global reach quick and easy. Of course, you don't need to make your site available in 100+ languages. Depending on where you are, and your audience, you can limit this to one, two, or three languages if you prefer.
It is important to note only text will be translated; words in images or banners will remain in the native language. The translation process is provided 100% by Google, there are no additional tools or edit screens you'll need to adjust how Google handles the translations of specific text.
Google Translate has a lot of benefits — it's free, convenient, easy to install, and simple to use — but full disclosure, as "smart" as Google is, its translation tool is not perfect. The plugin will give your visitors a general idea of what you're trying to say, but there are certainly more sophisticated translation solutions available on the market. If you're looking to impress your non-english speaking visitors, win new business, and sound professional you might consider a more advanced option.
Best Practices for Multilingual Websites
Translating your ecommerce site into multiple languages (or even one) is a hefty undertaking. A lot goes into preparing for a multilingual website, much more than just handing over a few pages to a translation partner with the direction "translate it!" However, if it's well-planned and executed, all the work that goes into making your site available in multiple languages can be well worth the time, effort, and cost.
Below, we've listed our top five best practices for making your website multilingual. Follow this guideline and you will likely see the results you expect.
Do your research — You don't need to make your site available in 100 languages.

Do some market research

to determine what languages are most likely to deliver the greatest opportunities for growth.
Craft with translation in mind — If your website is in the midst of a complete redesign, now is the best time to make your site responsive to translation. Organize your site so sections destined for translation are easily separable. Additionally, minimize the use of images with embedded text since that text cannot be translated. It's also a best practice to choose culturally neutral images, avoiding graphics that might be considered offensive to some visitors.
Pick the right translator for your needs — Google Translate is OK, but not right for all websites. You will want to assess your needs and choose a partner who has experience not only in translation, but specifically website translation.
Have a language menu — Could you imagine going through all the trouble of translating your site only to not display a menu for visitors to pick their language? Make sure your site links through a language menu so visitors can pick the language in which they prefer to view your site. However you choose to do this, make sure each language is listed in its own language (for example, Spanish should be "español" in the menu. Another best practice is to avoid using flags to indicate languages. If you use flags, you risk, for example, inviting Spain while ignoring Mexico.
Implement International SEO — Once your multilingual sites are live, you need to

make sure prospective customers can find you

! That means you'll not only need to

pay attention to your English SEO

, but now also multilingual SEO.
We never said it was easy, but done right, multilingual sites open up the channel to international success for your online uniform store. On the other hand, a half-hearted effort can simply be a waste of time. As an ecommerce business, it's important to consider offering multiple languages on your website.

For more on UniformMarket, and how we can grow your business, call us today.