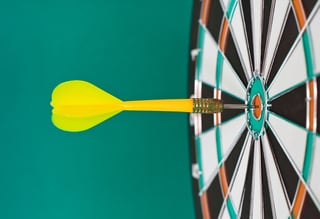 Retargeting is a powerful marketing tool that allows you to re-engage with visitors who have previously interacted with your site, whether they made a purchase or not. The following post will discuss display ad and email retargeting and the ways these marketing tools can increase conversions to your online uniform store.
What Is Retargeting and How Does it Work?
Retargeting Using Online Advertising
If your company is participating in advertising networks, such as Google Ad Retargeting, a small piece of code is placed on your visitors' browsers which will allow them to see your remarketing display ads when they search the internet. Display ad retargeting is beneficial for re-engaging with visitors early in the buying process.
Retargeting Using Email Marketing
Using coded technology, you can send retargeted emails to customers who have engaged in the checkout process but abandoned a full cart before making the final purchase. Your eCommerce platform can help you schedule several reminder emails to be sent to your visitor after a cart has been abandoned. Email remarketing works best for engaging with customers who have already expressed a high level of buying intent.
Benefits of Retargeting and How it Helps Increase Conversions
Increases Brand Recognition
There are many reasons why visitors leave a site without taking action. Whatever the reasons, retargeting allows you to continually advertise and keeps your brand top of mind through ad display or email marketing. Retargeted customers have already shown interest in your brand so they are more likely to return in the future when exposed to ads at high frequency. In fact, 3 out of 5 retargeted customers notice ads for sites they've previously visited; 76% of these customers are more likely to convert when they receive retargeted ads or emails.
How Email Retargeting Increases Conversions
According to the Baymard Institute, the average shopping cart abandonment rate is 68.63%. There are many reasons why shopping carts are abandoned; however, customers who abandon their carts have shown a high level of interest and have engaged more deeply with your company than the average site visitor, giving you more leverage to re-engage.
Retargeting emails reach out to customers and encourage them to revisit your site to complete a purchase. You can send out a friendly reminder that items were left in the cart; add a discount coupon for the items in the cart, or add a free shipping offer. Email retargeting helps recover abandoned shopping carts and can increase customer conversions by 147%.
Your visitors have shown an interest in what you offer, and thanks to technology, you can see the specific products and/or services they are interested in. And customers who have already made a purchase will have more reason to purchase again. In addition, using retargeting to increase conversions will help you optimize for future sales as you gain insight into customers' purchasing behaviors.