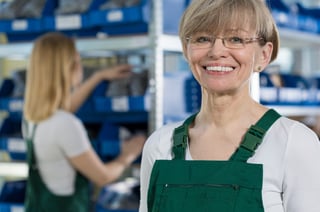 You know you need to grow your uniform business, but you're not sure how. When there's so much advice out there, what do you do? In this post, we'll take a look at some expert tips you can use to grow your retail business.
1. Research, Research, Research
There's no such thing as too much research. Understanding who your shoppers are helps you know how to best reach them with your marketing efforts.
Ask yourself:
What are their work schedules like?
What types of positions are they in?
What type of marketing are they most responsive to?
Do they enjoy the atmosphere of your store, or prefer to shop online?
2. Give Shoppers a Reason to Be In Your Store
Now that you've done your research, you can use it to give shoppers a reason to come to your store. Shoppers can find similar products in a variety of other places.
Give them reasons to buy from you!
Capitalize on what makes you different
Hold exclusive events
Use in-store and online coupons
Make some of your uniforms only available in your physical store.
3. Give Customers a Reason to Take Action
Now that your customers are in your store, they need a reason to buy your uniforms. Special offers are one of the best ways to prompt your customers to take action.
4. Connect Your Online and Offline Presence
Shoppers today have a wealth of knowledge available to them at the touch of their fingertips. Most will research products and look for information online before shopping. Take advantage of this by providing access to detailed information on your uniforms and products on your website.
Other ways to connect on and offline include:
Making online reviews accessible in your store
Providing in-store promotions for your online uniform store
Allowing customers access to updated store inventory
Making sure you have a phenomenal local SEO plan
If you operate a brick and mortar, uniform storefront utilize these tips to begin improving your business. Want to learn more about how UniformMarket can help your retail uniform business? Contact someone today!