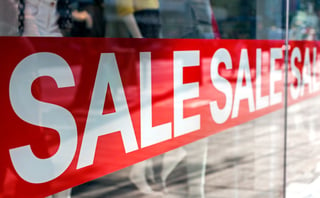 Owning a brick and mortar store along with an online store can be challenging, but don't let this stop you from promoting both sales channels of your business. Instead, focus on how your brick and mortar store can boost sales for your online business, and vice versa. Treat them as two entities on one team, working towards the same goal—increasing conversions and sales. Make your in-store promotions for your online business work for you as you promote your online uniform store.
Showcase Online Promotions In-Store
Use your existing customer-base to increase online sales. Create exclusive online offers (available through email, digital marketing, and social media platforms) and promote these in-store. 84% of consumers believe retailers should focus on integrating offline and online channels to increase sales and convenience. After your customers make an in-store purchase, send a follow-up email with a coupon for future online purchases to boost online traffic and sales.
Use Clear In-Store Signage
Bring your online presence to in-store customers by offering promotions for your online uniform store. When customers arrive at your brick and mortar location, the first thing they should see is clear signage announcing that you are offering exclusive online promotions they can't pass up. Place printed announcements of online promotions at your point-of-sale location and add them to customers' bags. Consequently, combining multiple sales channels can increase sales and traffic—22% of customers spend more at brick and mortar stores if an online platform is also available.
Offer an In-Store Promotion for Online Shoppers
55% of all shoppers who buy online prefer to purchase from a brick and mortar store that also has an online store. While you have their attention online, direct customers to your physical location. Offer a temporary coupon online that must be printed and physically brought to your brick and mortar store for in-store savings. Or offer a volume discount program, extending in-store savings when customers purchase a certain dollar amount online. Consider using text message marketing—text messages announcing limited time in-store offers.
Online Promotion Best Practices
Your online promotions require utilizing some common best practices in order to be successful. Remember that promotions are most effective when they are time-limited. A sense of urgency will encourage purchases as time sensitive deals make a customer believe they will miss out on savings if they don't act fast. Customers may also make a purchase they weren't previously considering when they notice your unbeatable (time-sensitive) offer.
When you offer something of value, whether on or offline, your customers are more likely to make a purchase. Get to know your audience and offer discounts and promotions that are aligned with their needs and with what you sell. Your promotions need to make sense to your customers. And always remember to lead your brick and mortar customers to your online store, and vice versa.