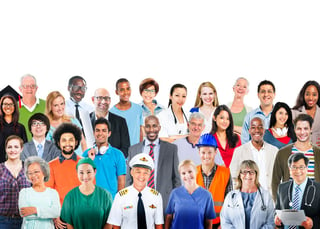 As a uniform retailer, you likely represent, and carry, a multitude of different brands and manufacturers to present to potential customers. If you operate a brick and mortar uniform business you've hand picked the inventory you want to carry and display based on how they represent your business but also based on budget and the availability of space.
But when we take a look at how you can present your catalog of merchandise online these same rules and restrictions don't apply. For example, in your online store you can simply showcase more brands and a wider variety of products that you wouldn't have the space for in your physical location. Then, when these items are purchased, you can special order what the customer wants.
The Problem
For uniform businesses, keeping up with the volume of information, in regards to different catalogs, or keeping your website up to date with new products can be difficult. In fact, managing this data should be a full time position within your business. The business owner will not have the time to do it and you need someone who knows what they're doing in order to ensure a successful online operation.
Your UniformMarket representative can assist by offering a library of product data, which is updated on a regular basis, but nothing is foolproof. Items may get discontinued or released without notice but ultimately you need to pay attention to the brand catalog information in order to maintain your inventory.
Why It's Important
Showcasing all of the brands you can offer to your customers is essential for your online store. It basically levels the playing field and increases the options you can offer your customers. You should also make loyal shoppers aware of what you can offer considering they can likely find apparel online.
Here is an example of 150 different uniform catalogs that your business could load directly into your website.
At the end of the day you want to represent your business in the best way possible. In order to stay competitive in your industry you want to be able to offer your customers a number of options so they don't feel the need to look to your competitors.
For more information about UniformMarket can help your uniform business, subscribe to our blog today!