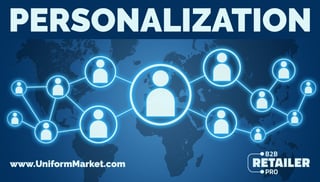 There was lively activity at the 2016 Internet Retailers Conference and Exposition this year. The principal refrain we heard over and over was that companies are working very hard on personalized marketing solutions.
The dream of every company is that advertising, social posts, emails and more will all be so highly personalized to you as an individual shopper that every dollar spent on promotional activities will have the highest ROI possible. These are not new goals, but there are more and more fresh tools available to achieve them.
The secret is tracking. Plus, using more tracking, other types of tracking and then likely additional tracking. Load your customer and prospects into ad networks and social platforms – technology will handle the rest.
Example? KIND knows you purchased one type of granola bar, they do not want to show an ad for that one, but offer other types of granola bars. Or, purchased a few bars, they want to show bags of healthy snacks you might also consider. Sounds simply enough for a single shopper, but the approach companies want today is to provide experience for every shopper, everywhere they go on the Internet.
Google continues to perfect their offer to help you as a B2B website create AdWords programs that offer to Customer Match your exact needs. You can market to your specific prospects and customers, as well as create a more exact approach to the creation of custom audiences.
Similarly, Facebook offers the opportunity to build custom audiences by allowing you to upload your shoppers, prospects and other lists to directly target with advertising. Spend money to advertiser only to the exact audience you care about. You are also able to build Lookalike Audiences, which is a way to reach new customers interested in your business because they are similar to the customer and prospect list you loaded.
One speaker from Gartner emphasized that the trend continues to be moving from Business To Business (B2B) over the Business To Individual (B2i). This is certainly true as far as the B2B marketing and sales experts were concerned at the IRCE 2016.
On the sales side, a real world example of customization was demonstrated in what Cresent Lighting described as their hosted catalog solution. This technique has provided the national B2B operation the ability to feed their product data out to their customer base in the precise configurations, formats and pricing required by each of their users.
One speaker from J.J. Keller offered this explanation. They are a national provider of transportation, workplace and hazmat regulation compliance products and services. She stated that Business Value no longer equals Differentiation. What they found in their efforts to dramatically increase their online commerce was that Personal Value was greater than Business Value to their buyers. They used to show a new customer everything the company offered, in a series of online and offline contacts. For many new accounts this proved a turn-off. Now, the company focuses on campaigns that are more custom, only showing a customer the products and services they are likely to actually purchase.
As a B2B distributor of uniforms, footwear and gear these are all ideas worth considering in your approach to managing your online stores. Think about how to personalize the shopping experience for your customers. Their loyalty to your products and services will increase.