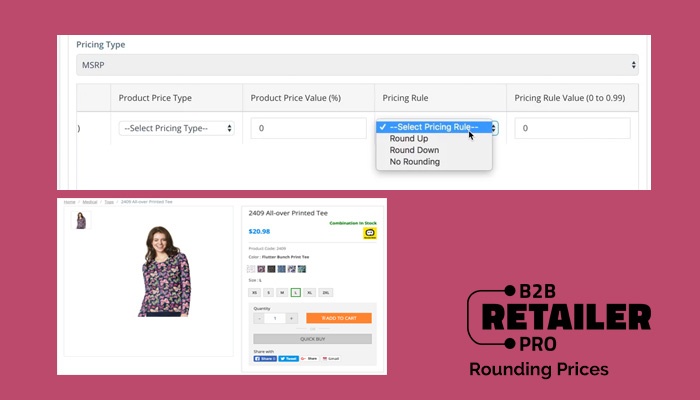 The next time you find yourself in a retail setting, take a close look at the listed prices. You'll quickly observe that most items end with 49 or 99 cents. Sure, you get an extra penny out of the deal, but what's the point? Wouldn't it be easier for retailers to skip the hassle and assign a nice, round number to each product?
Every decision in retail is made for a good reason, and pricing is no different. Turns out, ample empirical evidence backs a strong theory explaining the odd prices attached to most products.
Keep reading to learn more about effective online pricing strategies and how you can apply them to your uniform or gear business.
Why Are Strange Decimals So Appealing to Retailers?
The 99 cent add-on is nothing new. Marketing professor Lee E. Hibbett claims that the practice gained favor over a century ago. Its efficacy stems from our tendency to read from left to right. The first thing we read packs the greatest punch, so when we see a price of $49.99, we spot the 4 first and interpret the final cost to be far less than $50, despite only saving a penny. Experts at the Harvard Business Review argue that, over time, we've been conditioned to believe we're scoring a good deal even when we're only saving one cent.
Interestingly, that penny saved is more than a penny earned for retailers. A notable University of Chicago study found that, while demand increased by 65 percent when the price of margarine dropped from 89 cents to 71 percent, sales increased by a whopping 222 percent when consumers saved just an additional two pennies for a final price of 69 cents.
Applying Pricing Strategies to Uniforms and Gear
The same pricing tactics that get you to spend a little more on gas or fast food could do wonders for your uniform business. Regardless of brand or online store layout, rounding retail prices online will increase your likelihood of making the sale, and encourage your customers to spend just a bit more than they might if you attached an even decimal to your product's price. Give customers the cue of 99 cents, and they'll immediately think they're scoring a deal, no matter the price of a particular item. That single penny could make all the difference as you strive for greater online conversions.
Pricing can be a frustrating and time-consuming ordeal. The right software will optimize the process, allowing you to apply your pricing strategy across a broad range of products. This saves you time while still netting the impressive return on investment that a simple 99 cents can garner.
Ready to implement a more effective online pricing strategy? Look to UniformMarket and Sellers Commerce for assistance with all aspects of pricing in the uniform and gear industry. Contact us today to learn more about product pricing strategies.