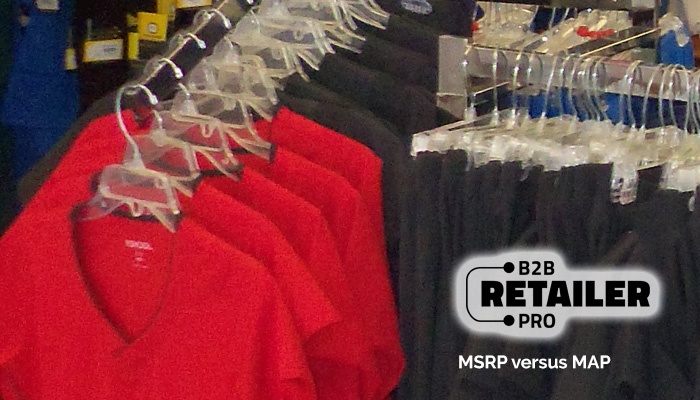 Like most retailers, uniform marketers have long advertised themselves based on price, and it's not hard to see why. Consumers and business clients are always looking for the best deals, and on items like uniforms that have to be bought over and over, even small savings add up. Thus to succeed in online sales, you must come up with a pricing strategy that will help your company stand out from the competition. The first step to doing this is to understand the difference between MAP and MSRP, two tools that help you establish base prices for your gear.
MSRP & MAP: An Overview
MSRP stands for Manufacturer's Suggested Retail Price. As the name implies, manufacturers set this price based on how much they think their wares are worth on the open market. Ostensibly, retailers will use this consistently in their advertising and sales. In practice, however, they use it as a maximum price; once discounts and promotions are factored in, few customers end up paying this much.
Whereas MSRPs act as upper limits for pricing, MAPs, or Minimum Advertised Prices, are specifically intended to be lower limits. These are set when a manufacturer and the retailers who sell its wares agree on the lowest price they are allowed to advertise each product for. This does not mean that retailers always have to charge these prices at the end of the sale; they are still allowed to offer promotions and discounts. Any ads for the product, however, cannot present it as costing less than the MAP.
Considering the Choice
In general, retailers and manufacturers are turning away from MSRPs and toward MAPs, as the latter tend to serve their interests more effectively. Nonetheless, neither tool is right for everyone. To decide which is best for your uniform business, consider:
Differentiators- Does your company excel at customer service, educational content, product support, and other differentiators besides cost? If so, an MAP agreement will take the focus off price, allowing you to attract customers with these differentiators.
Marketplaces- Do you plan to advertise your uniforms on online marketplaces? If so, MAP agreements give you less flexibility to compete with other retailers, who may try to undercut you based on price. MSRPs are a better bet in this situation.
Collaboration- Is the manufacturer who makes your uniforms willing to route their web orders to your site or otherwise collaborate with you in the sales process? If so, an MAP will make it easier for you to work together.
Flexibility- Is your manufacturer willing to give you flexibility on your MAP agreement during periods of high demand? If not, it may be hard to hold up your end of the bargain during the busiest times of the year, making MSRPs a safer option.
As with any aspect of online marketing, your pricing strategy should reflect the specifics of your customers, gear, and company culture. For more information on successful uniform sales, contact UniformMarket today.