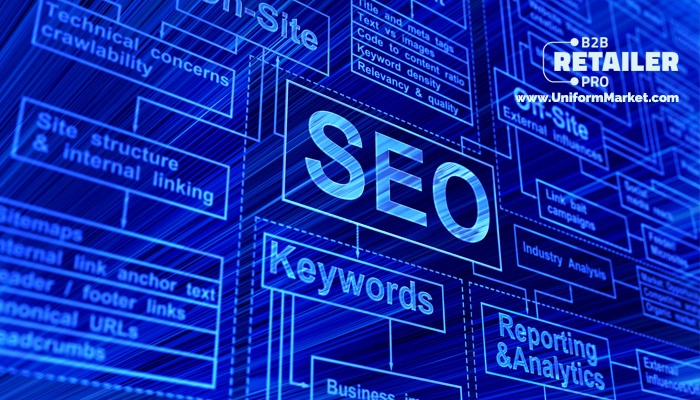 Reports of the death of SEO are greatly exaggerated. Search engine optimization is as important as ever, and no uniform retailer can succeed without mastering it. What is dead is the idea that SEO is a mere series of tricks to lure traffic to your website. As technology improves and consumer tastes grow more sophisticated, it has become as much an art as a science, requiring creativity, passion, and attention to detail. By understanding the basics of SEO, you can get a jump on this crucial creative process and propel your site to the highest ranking.
1. Focus on Keywords
Keywords are the first priority of any SEO strategy. Without them, you cannot ensure that customers searching for products you sell will find your site, let alone that they will feel compelled to make a purchase. You should thus focus on identifying effective keywords related to your product, as well as on:
Prudent Placing- The better you place keywords, the better they will perform in search results. Make sure to include them in distinguished parts of your content, such as in the titles, meta descriptions, headers, and subheads.
Natural Numbering- Adding more keywords will only help your site up to a point; if you use so many as to interrupt the flow of the content, your search rank will suffer. There is no hard and fast rule for the number of terms you should target, but in general, only include as many as sound natural.
In general, the better you are at identifying keywords, the easier it will be to use them naturally in your text. You should thus first focus on coming up with useful terms, and then consider how best to use them in writing.
2. Gauge the Geography
Besides targeting keywords related to the product, you must also indicate the location of your target customers. If you have a physical store, include the name of the municipality, county, and state where it is located, as well as any unincorporated communities it is part of. Also include the names of nearby towns that potential customers might come from or be on their way to; this is particularly important if you live in a suburb of a large metropolitan area.
If all of your sales are online, start by using geographical terms for the location of past customers. You can then expand your targeting as you identify new markets you would like to enter. If you serve a network of hospitals in North Carolina, for example, and realize that there is another hospital network in southern Virginia with similar uniform needs, you can start targeting the towns where those hospitals are located. Expand geographical targeting gradually; you don't want to take attention away from existing markets in search of the mere possibility of entering new ones.
3. Create Original Content
Although geographical tags and keywords will boost your content, if that content isn't original, they won't do much good. Google and other search engines assign ownership for each piece of content to a single site; if other sites republish it, they don't give them the same ranking. Thus while there is nothing wrong with curating others' content from time to time, your site must contain original materials. The more unique your voice and subject matter, the better your site will rank and the more engaged customers will be when they find it.
SEO is both art and science, and UniformMarket has extensive experience with both. For more information on keyword use, content creation, and other marketing strategies, visit our website today.