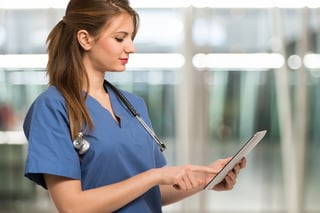 As a business to business company, you need to understand the wants and needs of your many different customers. Selling on your B2B website can be a challenging process, requiring flexibility and customization options to match each of your different purchasers. While your website might be perfectly designed to meet the needs of large groups, government agencies and corporations, you also need to be able to meet the needs of smaller clients.
To properly serve every customer, you must ensure you are prepared to provide accurate online ordering and fulfillment. Your website design, order processes and fulfillment processes need to be easily adjustable to take orders of any size of any product.
Your company's ability to understand your purchasers helps you keep every customer, from a hospital to a restaurant to an individual employee, satisfied. Whether you receive an order for 10 or 10,000 of an item, you need to be able to deliver — and fast.
You can better appreciate the dynamics of your customer's needs by separating your buyers into three categories: The public, a group, or a program. By breaking down your customers into these segments, you can focus on what each individual customer is seeking and ensure your business is ready to meet their needs.
When selling to the public on your B2B website, you might sell to customers to anywhere in the world. Their needs and concerns could include:
Product variety. When selling to the public, you will receive a wide range of demands for different types of products. The public might be looking for specialized products, so be sure you carry the products they are seeking. You will also need to offer the products in small quantities and be prepared to fulfill and ship small orders.





Price sensitivity. Members of the public can visit any website to get the products they need. Because they have the ability to shop around, you'll need to make sure your prices are competitive enough to attract consumers. Though you might typically sell in bulk sizes, you'll need to adjust your prices for small quantities. You will also need to adjust shipping costs for different size orders.





Retailer trust. Though you are a B2B company, you need to have a strong personality that's relatable. People want to buy from other people, not just a business. Be sure you communicate with the public in ways that build trust. Though including data about your successes and quality is important, be sure your communications are warm and inviting.





Brand recognition. The public wants a greater recognition of brand than most businesses. They are looking for products with a little bit of clout and businesses they on which they can rely for great quality. Your website should have a strong brand identity that communicates your values. You might need to spend some marketing dollars on building brand awareness.
By addressing these customer concerns, you'll have much greater success selling on your B2B website to purchasers of all sizes from around world. When you create a flexible, easy-to-use website that meets the needs of all three customer segments, you'll find that you attract more purchasers than ever before.