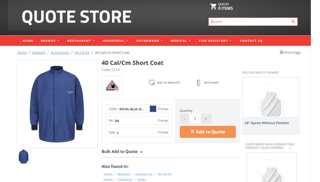 Not all orders are created equal. Some clients may have a small order to place, while others might completely deplete your stock of a certain SKU. If you're not interested in filling small orders from your eCommerce website, you should have a separate uniform website created so that visitors can have the option to request a quote.
This website would still show all the brands and products you sell, as well as offer all the same detailed information about the products that your eCommerce site would. The only difference is, instead of the visitor placing an order by credit card to complete the transaction, they'd simply fill out a form and request you give them a quote on the merchandise.
Having this option for customers (especially new ones that might need a little more direction), is a great way to add a human touch to your sales process. It allows you to personally follow up with the customer and determine if your company is a good fit for fulfilling their ongoing uniform orders. Once on the phone, you can fill the order (or not), discuss the process, answer questions, and gather information from the customer about how you can potentially meet their needs — this is a great brand reputation management strategy!
The Quote Store App
If your business model is not about selling random items to the general public, this may be just the solution for you. And here's some more good news — those on the B2B Retailer Pro platform with UniformMarket have access to an application that allows for this type of functionality! It is called Quote Store and here's what you need to know:
With Quote Store, you can set up your store to allow visitors to request a quote for products, instead of placing orders. All the same brands, categories and products can be displayed. Your website visitors then add items to a shopping cart and request a quote for purchasing. You can then follow up with each request via the website or contact the shopper directly.
With a one time set up price, and no additional monthly charges beyond your monthly license, website owners can install this app today and convert your online store to a Quote Store! Additional apps available on the B2B Retailer Pro platform can be found here.