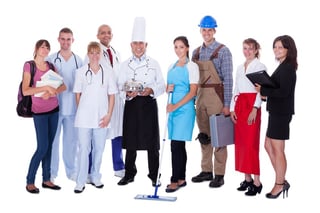 The main goal for many business-to-business companies is to sell their products/services to all sizes of groups, government agencies, and corporations. With the advent of the digital age, many of these purchases now take place online. Therefore, it is advantageous for your company to determine how to streamline this process to generate the most sales. Luckily in the uniform industry, there are many opportunities for sales ranging from those who need uniforms in healthcare to those working in law enforcement, transportation, or practically any kind of customer service position.
However, not every uniform provider is adequately prepared to meet the demands these programs need for easy processing in online ordering and fulfillment. It's critical for a company to understand a program's requirements and needs, and then create a website catering to those needs. Your B2B users might purchase for a handful of employees, or they could be the point person managing the uniforms for tens of thousands of their staff members.
When setting up a program on your B2B website, you want first to acknowledge the type of products you want to sell. Think about how employees will make purchases and how easy is it to customize the purchasing rules to meet the needs of each type of customer. To help understand the types of users in the B2B uniform market, we categorize them into three types of purchasers: Public, Group, and Program.
While looking at how to set up a program on your B2B website which allows employees to purchase uniforms or necessary items, you want to keep in mind that the Program's purchaser is dealing with multiple stakeholders. Upper management typically negotiates what employees are allowed to purchase and is held accountable for the transactions. Supervisors beneath them then control and report on behalf of the employee accounts.
Employees will want to know if there is an opportunity to purchase in bulk for the products they need based on the areas they work in. Along with the ability to select desired products, a strong online program will allow the proper associated payment methods to be built into an account.
A solid integrated B2B online program would take into consideration:
Employee products

Payment programs

Order tracking

HR integration
Determining how to offer an online program that touches on all of these points, and making the purchasing system as easy as you can for the customer, will help retain loyal customers who will continue to use your company in the future.