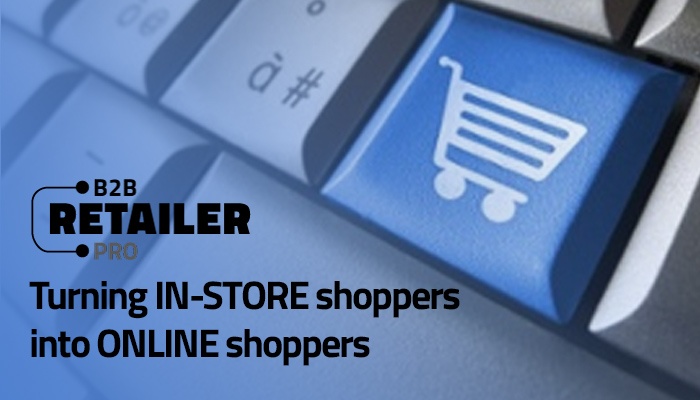 Maybe you started your uniform business as a brick-and-mortar store and want to expand into a broader online operation. Or perhaps you just want to make your in-store shoppers more aware of your online offerings. Either way, there are numerous methods you can use to entice your in-store shoppers into becoming online customers. Here are seven strategies you should try.
1. Create Online-Only Incentives
Few strategies work as well for converting in-store shoppers into online buyers as offering online-only incentives. These incentives could take several distinct forms, including special discounts or promotions, or limited inventories only made available to online shoppers. Either way, the goal is to set up an enticing, exclusive offer that rewards your online shoppers and makes your in-store customers want to become online buyers. Just be sure to inform customers at your store about the online deals you are offering!
2. Create an Online Loyalty Program
Loyalty programs are always great ways to encourage customers to make repeat purchases and become "regulars." Online-only loyalty programs can encourage your in-store shoppers to check you out on the web by offering special discounts and promotions.
3. Offer Free Shipping
Online shopping is more convenient across the board than in-store shopping, but there is one factor that can discourage customers from making the switch: shipping costs. Shipping costs can certainly eat into your shoppers' uniform budgets, so offering free shipping is a great incentive to encourage more widespread adoption of your online store. You can provide free shipping for everyone, for all orders above a minimum price, or exclusively for customers who order large volumes or order consistently. No matter what you do, this perk is one that your shoppers will notice and appreciate.
4. Promote Your Online Store in Written Materials
How can your customers shop at your online store if they don't know about it? Pass out postcards to highlight the benefits of shopping at your online uniform store, or add text to your receipts that encourage online shopping. These actions will increase awareness for your online store, which will in turn boost traffic.
5. Set up a Working Demo
If you want your in-store shoppers to use your online store, let them see how well it works! Place a notebook computer or tablet somewhere in your store to keep your website visible. Point it out to customers as a demo of your site, or use it to help customers look up items that aren't in stock. You will win more than a few converts with this method.
6. Make Use of The "Order Online/Pickup In-Store" Offer
Offer a shipping option on your site that allows customers to order online, but pick up at your store. This offer helps send the message that your online store and your brick-and-mortar location are two pieces of the same entity. In particular, encourage customers with special-order items to reorder from you with this method in the future. Doing so might even save those customers an extra trip to your store.
7. Give Out "Secret Codes"
Set up a coupon that is only good for 30 days (and only good for online orders) and then pass it out to your in-store shoppers. You can say the coupon is un-advertised, just for them, and can only be used for 30 days. This method makes it easy to track just how many of your in-store customers are making the leap to your online store. Switch the coupon code every month to keep urgency alive and make tracking easier.
Putting a stronger emphasis on your online store is a good way to ensure a prosperous future for your company. By using the seven ideas discussed above, you might just be able to transform your valuable in-store customer-base into an even-more-valuable online customer-base.