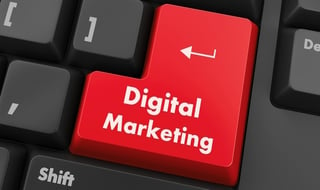 The power of digital marketing is priceless. It can lead your business into new territories you wouldn't have otherwise found. Though digital marketing tactics can be complicated, it should be an integral part of your business plan. In fact, much of your marketing budget should be spent on digital marketing.
A true digital marketing plan should be packed through with things like content development, social media, email marketing, and more. With so much to do and not to mention, a business to run, how does it all get done? Should it be done in house? Should you outsource? There are pros and cons to each, which we review below.
Website Building & Design
Building a great website is one of the most important pieces to your digital marketing strategy. You want your website to be informative, easy to navigate, filled with SEO and other inbound best practices, and of course, look amazing too. Think of your website as your business' first impression — it should beautifully showcase your services and invite viewers to work with you in a non-threatening way. Website design is not something that should be taken for granted. You can do it yourself, but it takes a ton of time and commitment. You'll likely only be able to only focus on your website for weeks on end, and you have plenty of other work that needs to get done. It's best to outsource web design and put it in the hands of a professional. Use someone who specializes in design and knows how to take what you do and create a visually appealing site.
Website Content Development & SEO
As visually appealing as your site might be, if it isn't easy to navigate and your services are not clearly spelled out, you're not going to make a great first impression. The content on your site is probably the most important piece of content of all your digital marketing. To increase visitors (who can turn into leads and customers), you want to be found organically online, which is why you need Search Engine Optimization implemented into your site. This is a strategic process that takes a lot of time. You can take an SEO course to learn best practices, but it's a big commitment and not something that is implemented only once. For best results, SEO needs to be kept up with and altered based on results. If you outsource this work, you'll be working with SEO and content experts who keep up with best practices, track and analyze results, and make changes accordingly.
Social Media
You can write great content that you know your readers will love. However, if you don't promote that content, it's going to be hard for you to be found. Social media is a great way to showcase your content and act as a trusted resource to your followers. Yes, you can just do quick updates every day, but if you have a well-thought out social media strategy, you're going to bring in a lot of business. Again, you can sit down and come up with a fantastic social media plan, but if you don't have someone dedicated to executing everyday, you're going to run into trouble. It's best to outsource for social media help.
Pay-Per-Click Advertising
Part of a great digital marketing strategy is having a pay-per-click (PPC) advertising tactic. You want to ensure that you are found organically, but it doesn't hurt to have a bit of help from Google. Learning PPC best practices isn't a simple task — there are many lessons and quizzes you can take to boost your knowledge and learn how to do PPC advertising the right way. Outsourcing can ensure that you have a dedicated individual who is an expert on PPC and is committed to your advertising.
Email Marketing
Email marketing is often overlooked in small business's digital marketing strategy, but it's actually very important. Email is how you personally stay in touch with your customer base and prospects. You want to make sure you have an ongoing strategy and a weekly or monthly outreach plan. The content you provide is extremely important as well — it should be relevant, helpful, and exciting to your readers. You know your customers best and you should absolutely have a say in what information goes into your email marketing, but if you want a consistent strategy that's strictly enforced, it's again best to outsource.
It's your business, and it's natural to feel like you want to do everything. However, wearing multiple hats can end up hurting your business rather than helping it succeed. Managing the daily operations of your business and creating and implementing a digital marketing strategy is too much for one person. Focus on what you do best — running your business — and hire an expert to help you succeed with your digital marketing efforts. If you're ready to outsource your marketing, and need help finding your perfect match, contact us for more information.