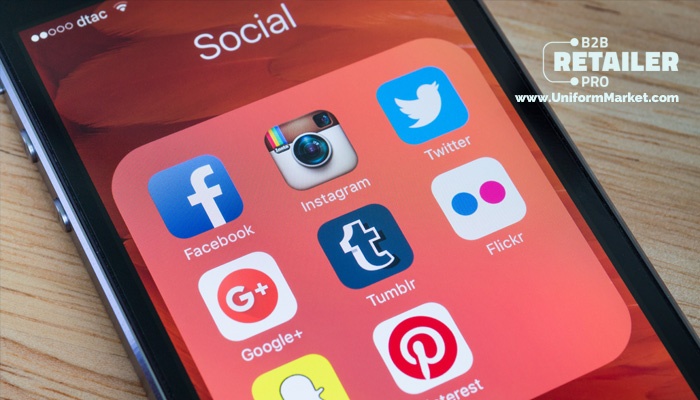 Today's internet users devote a third of their time to social networking and messaging, and businesses have taken notice. With Facebook, Instagram, and Twitter dominating the virtual landscape, retailers simply cannot afford social media absence. Social networking platforms are particularly valuable for uniform suppliers — where better to promote new designs or build a sense of community?
Ready to amp up your social media presence? You'll quickly find that social media and uniforms go hand in hand when you implement these basic social networking practices:
Offer Coupons
Simple and effective, coupons quickly attract new and loyal customers alike to your social media accounts. Special offers can be redeemed online, or, if you prefer, in store. Always a hit on Facebook, coupons are increasingly popular on Instagram and Twitter, where they can be offered as codes to be redeemed upon checkout.
Show Off New Products
Proud of a new product? Let the world know with a picture or marketing video. Give consumers all necessary details, including price, sizing information, personalization options, and, of course, a link to your website.
Feature Consumer Testimonials
Today's customers value insight from fellow consumers. Facebook and Instagram offer ample opportunities for providing such feedback. Uniform posts on social media may include pictures of happy customers with quotes in the caption area, or links to video testimonials on YouTube. Facebook also gives users the option to rate and review your business, so encourage visitors to leave detailed feedback.
Announce New Partners or Customers
Facebook revolutionized the internet with the concept of the tagged photo over a decade ago, but the thrill of being tagged has yet to wear off. Tag customers in images and posts when applicable; they'll appreciate the visibility boost and just might return the favor. If you've recently scored a new partner, write an introductory post linking back to their website or top social media account.
Highlight Events You're Attending or Hosting
Next time you attend a top conference, share insights or better yet, photos. Be sure to include the event's hashtag in any posts you make while in attendance. If event marketing constitutes a large share of your outreach efforts, Snapchat could prove a valuable addition to your social media arsenal; users — particularly Millennials — enjoy checking out your stories and using your branded geofilters.
Throwing an event all on your own? Drum up attention with an event page on Facebook. This is an easy way to get the word out while clarifying details such as date, time, location, and cost. You can invite all of your page's followers, plus anybody else you suspect might express interest. Afterwards, post photos or videos to get your followers excited for the next big event.
Promote Charity Efforts
You are determined to give back to the community by designating a portion of each purchase to a deserving charitable organization. Are your customers aware of this effort and how they can help? Social media is a great tool for charity promotion. Tie in all charity-related posts with the organization you're supporting. Charities, in turn, can highlight your company in recognition of your contributions. Provide specific information: which purchases raise money, where does that money go, and who does it benefit? Followers also appreciate regular updates that demonstrate how their purchases have made a difference thus far.
An untapped social media presence can be a real liability in today's virtual world. Whether you target customers on Facebook, Instagram, Twitter, or some other network, a carefully targeted social media campaign could give you a much-needed edge over the competition. Contact UniformMarket today to learn more about effective marketing options for your uniform company.