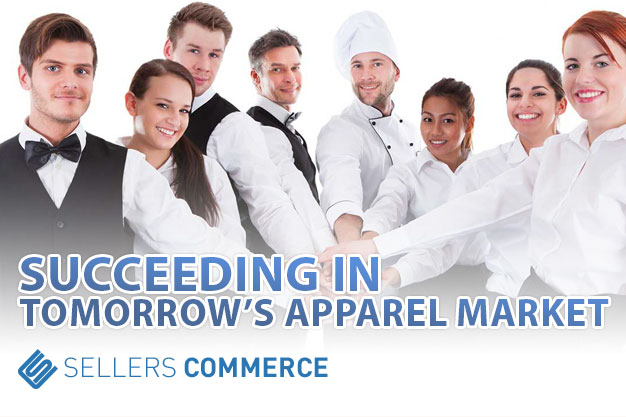 These are just some of the ways in which the world will look very different for apparel companies in the future than it does today. What can apparel companies do today to be among tomorrow's winners? In this article, we discuss the primary ways in which the world is changing and how these shifts will have a significant impact on the way apparel brands and retailers do business.

Moving targets. Target groups change continuously, but within just a few years, these shifts will spawn great diversity, the likes of which the world has never known. First, the global population is aging rapidly: In the U.S., for instance, the segment of consumers over 55 is growing faster than any other – both in terms of their share of the total population and their expenditures for clothing. Second, the global economic base of power is shifting from north to south and from west to east. Fifteen of the 20 cities in which apparel sales are growing the quickest lie outside established Western markets. Increasing migration is giving rise to new customer profiles. Thus, the buying power of Hispanic Americans in the U.S. will triple by 2020.
Sustainability. Around the globe, apparel consumers are becoming more environmentally conscious. They expect ecologically unobjectionable fabrics, a conservation-minded use of resources, reduced emission of pollutants, greater social commitment, and fair treatment of employees in production facilities. In many countries, legislators are requiring companies to create more sustainable products, such as by prohibiting certain harmful dyes. Yet unfortunately, only a few customers are willing to pay more for these greener products. A clear commitment to sustainability is also considered good style in the industry, with online apparel retailers now providing sustainability reports.
This has vast implications for apparel companies across the whole value chain. Core functions need to be adapted to make and market more sustainable products. Environmentally-friendly products require the right commodities like organic cotton, which is in scarce supply, or a complete overhaul of the manufacturing processes to reduce the huge amount of water typically used for apparel. Ethical products require appropriate working conditions and a fair share of profits across the supply chain. In short, it entails a complete rethinking of functions and processes.
Digitization. Young apparel customers readily use a spectrum of digital platforms to get information on trends, exchange experiences, or compare prices. Within these customer journeys, social media plays a key role. Up to 35 percent of consumers indicate that they rely on recommendations from social networks. Some suppliers have equipped several of their European concept stores with interactive mirrors. These enable customers to take a picture while trying something on and then to post it to networks like Facebook for instant feedback from their friends before purchasing.
Channel convergence. Digital channels no longer only serve to provide pre-purchase information; they have become standalone transaction platforms. Primarily thanks to mobile devices, global online clothing and shoe retailing is growing at a rate three times that of the market overall. Independent of channel and device, apparel consumers expect a seamless shopping experience, which presents big challenges for retailers and their partners, requiring them to fuse links between these channels. Associates can order goods not available in the store. The iPads also add a high level of convenience and personalization – associates know exactly what their customers want by understanding what they did online, what's in their basket, what they've said about their company on Facebook and Twitter, and how many times they've called customer service.
Deluge of data. Manufacturers, retailers, and service providers are compiling more and more customer data at all kinds of new touch points – from user accounts to social networks. Based on this data, sophisticated algorithms can calculate the time, type, and scope of the customer's next purchase with high precision and probability. This can yield diverse ways of personalizing advertising, new customer interactions, and product offerings. But prior to this comes the challenge of processing huge volumes of data in real time. Apparel brands and retailers need to first identify which data is most relevant and then have the capabilities and organizational structure in place to use it, something that inevitably requires an understanding of the relevance of IT and big data at the corporate level. One leading textiles retailer in South Africa was able to boost its operating margin by 1.5 percentage points thanks to the help of big data. The key lever in doing so was more targeted pricing based on customer and competitor data.
Urbanization. Since 2008, half the world's population has been living in cities. By 2020, a quarter of global wealth will be concentrated in just 60 mega-cities, some of which will be larger than countries. Already today, a large share of the fastest-growing cities lies outside Europe and North America, primarily in China and India. The future impact of these trends will be even more dramatic in the apparel business than in most others. Emerging markets in Asia and South America currently account for roughly one-third of global revenues for women's apparel. Over the coming 20 years, this share will grow to over half.
Hybrid growth. Segment polarization has been a hot topic in recent discussions among apparel experts. The apparel industry in the UK, for instance, is booming at double-digit growth rates and the low-price value segment is growing at around 8 percent – still double the rate for the market overall. Yet the hotly contested middle market also has winners, particularly in affordable luxury, which resides somewhere between the mass and luxury segments. Many brands offer high product quality at prices that are significantly lower than comparable items in the apparel segment. Other apparel companies address the desire many customers have for affordable variety.
Against the backdrop of these trends, apparel companies will need to develop new patterns for success to grow further, remain successful, or regain lost ground. In particular, there are four disciplines in which companies will need to find new answers to old questions.
Here at UniformMarket powered by Sellers Commerce, we provide you with tools such as B2B Program Manager and Retailer Pro, which can connect you with the products and data you need for your employees or business. Whether you are a uniform retailer or an energy company needing to fit your employees with new uniforms and gear, we have the tools and services for you. Contact us for a demo today!