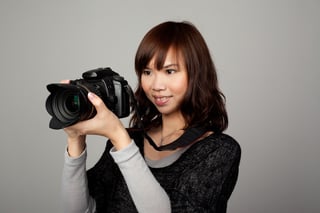 The images you use for your online uniform store can make you stand out from your competition. Low-quality images won't showcase your products well, and you, of course, can't just take images from Google or a competitor - This exposes you to significant risk due to licensing laws. Have you considered putting on your photographer hat and taking photos for your online store?
A few thoughts going through your head might be: Won't that be expensive? And time-consuming? Will I need to purchase all new equipment? And hire models?
You may be surprised to hear that taking your photos can save you both time and money. Not to mention the creative freedom you'll have. You can liven up boring photos, stand out from your competition, and try as many different shots as you'd like. What about the equipment needed and models? We'll walk you through that and more tips for taking great photos for your online uniform store in this post.
Using the Right Equipment
You don't need to purchase brand new equipment to take your photos, but if you can get your hands on a professional camera, such as a DSLR, that's the route you should take. It's an investment, but one worth making if you're serious about doing your photography and continuing to take many product shots. You'll end up saving a lot of money. Don't be worried about not knowing how to use the camera. You can learn a lot from your camera's manual and by watching YouTube videos and tutorials.
Is a DSLR just not in the budget right now? That's okay - An iPhone (or a similar smartphone) will do the trick. If you find the photos from your phone need a bit of help to make them look professional, try a free app, such as VSCO Cam, to help produce the great image you want. You can still get the perfect shot with your phone, but you may have to spend a bit more time ensuring you have the correct lighting and editing your photos.
Whether you choose to use a DSLR or a smartphone, a tripod is a great piece of equipment to consider when taking your photos. A tripod helps to reduce the blurriness in your photos and is the most effective way to get the clearest shot. Your camera is kept steady, in an exact position, and your hands are free so you can continuously reposition your product when needed.
It's all About the Lighting
Excellent lighting in a photo can make all the difference. Dull lighting creates harsh shadows and can darken your product, giving colors a less vibrant appearance. Great lighting will instead showcase your product and produce the most realistic photo.
It's easiest and most effective to use natural light as it is the softest light and almost always available. Choose a north-facing window and set up your product next to it for the best possible lighting. If you don't have access to natural light or a place you can shoot to get the right light, you can certainly try additional lighting equipment such as indoor lighting systems like this one.
Should You Use a Person or a Mannequin?
When you're ready to start taking your product shots, you have a few different options. Hiring a model is the most expensive option, and it is often difficult to work around someone's schedule. If you have employees willing to model your products, you could try going that route, but the easiest option is to use a mannequin for uniform photography.
Using a mannequin makes it easy to get the exact shots you want. You can take photos from every angle and ensure your product is showcased rather than the person. It also means you can take photos on your own time and won't have to wait on a model's schedule or deal with conflicting schedules.
Remember to Edit Your Photos
Even the best photographers find that their images can use some cleaning up. It's important to edit your photos to ensure your final product is as close to perfection as you can get it. You can edit in by cropping, retouching images, changing the colors, and adjusting the white balance.
If you are using a DSLR, you'll have to edit most of your photos in a program such a Lightroom or Photoshop. Many cameras allow you to adjust the white balance directly on your camera after taking the shot. As all cameras operate differently, be sure to check your manual to learn how. Adjusting the white balance can make the color of your product stand out against the background, help a dull photo look brighter, and make the colors in your photo more realistic.
If using an iPhone, you can try editing your photos right from the camera app, but you may find that you need additional tools. Check out photo editing apps, such as Adobe Photoshop Express or Snapseed, to edit your images on your smartphone.
With a little bit of practice, you can take beautiful images for your site and stand out from your competition. Ensure your images are protected (and your competitors aren't using your photos) – Make it clear on your website that you own your images and they are not to be used by others. Refer to these online uniform store photography tips to ensure you're taking the best photos possible!