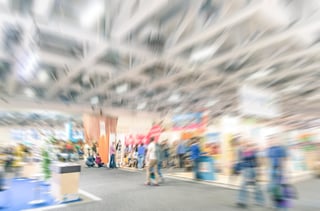 Trade show season is upon us and we've compiled a comprehensive list of some upcoming shows that those in the uniform industry might be interested in learning about/ attending. In the below, we've outlined the who, what, when, where and why's of each event.

Who:

North American Association of Uniform Manufacturers & Distributors
What:

2016 annual convention
When:

Sunday, May 22 - Tuesday May 2014, 2016
Where:

Horseshoe Southern Indiana, Elizabeth, Indiana
Why:

Explore the future of the industry as well as learn and network with industry leaders.

Who:

Advertising Specialty Institute
What:

The largest ad specialty show of the summer
When:

July 12 - July 14, 2016
Where:

McCormick Place, Chicago, Illinois
Why:

This show attracts industry professionals from coast to coast. Over 4,000 distributors and nearly 700 suppliers come together from across the country and beyond to prepare for the end-of-year sales season.

Who:

Textile Rental Service Association
What:

Executive Management Institute (EMI)
When:

Sunday, August 7 - Thursday August 11, 2016
Where:

College Park Marriott Hotel & Conference Center, University of Maryland
Why:

EMI teaches progressive employee and customer relations techniques and other emerging practices to textile services management so they can more effectively tackle to-do lists. EMI instructors explain how today's workplace dynamics and social trends impact everyday business decisions in the textile services industry.

Who:

Uniform Retailers Association
What:

10th Anniversary Trade Show
When:

September 25- 28, 2016
Where:

Palm Beach County Convention Center, West Palm Beach, Florida
Why:

Attendees will have an opportunity to meet other retailers, exchange ideas, and see the latest products from all of the industry vendors critical to their business.
There are lots of great uniform industry trade shows to attend this year. Pencil one (or all four) into your schedule to stay on top of trends, discover market innovations, and network with fellow professionals in the uniform industry. For more information from UniformMarket, subscribe to the blog today!