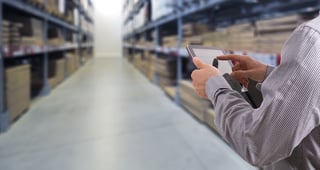 You know what they say: "The best time to make a sale is right after you've already made one." That's the mindset behind upselling and cross-selling your products — you've already found an interested party willing to spend money, and now is the time to show them what else they might need!
Amazon does this well, showing viewers "frequently bought together" items, or letting the shopper know that "customers who viewed this item also viewed XYZ." Doing this is a great way to upsell and cross-promote to customers who are already in the mood to buy! Within the Sellers Commerce platform at UniformMarket, a customer can add products so they are displayed on a product page that might be similar or complement the product being viewed.
The Difference Between Cross-Selling and Upselling
Cross-selling is simply selling a different product or service to an existing customer. A perfect example of this is a fast food cashier asking "Do you want fries with that?", or a gas station asking if you'd like to add a carwash onto your gas purchase. These cross-sells strategically mesh well with an already established purchase, making the chance of "Yes, I want fries with that" an obvious choice.
For an online uniform store, an example of cross-selling is when a shopper who has work boots in his/her online cart sees "complete the look with…" directing them to view certain socks. Highlighting those socks as an item that is frequently purchased with the boots is a perfect example of cross-selling your product to a shopper. Having this feature not only reminds shoppers of something they may actually need, but it opens up your online uniform store to many add-on purchases that might not have been made otherwise.
Upselling, on the other hand, is when you induce the shopper to purchase more expensive products in an effort to make a more profitable sale. Often, you'll see salespeople trying to upsell electronics. Say a customer is viewing a 16GB iPhone at an AT&T store. The sales rep might try to upsell the customer to the same model phone with 32GB of storage. They might persuade them that 16GB isn't enough storage space if they take hundreds of photos, use lots of apps, or stream music regularly, but ultimately for the salesperson, the switch is about getting more commission on a larger sale.
Examples of upselling on your online store include statements like "Premium backpacks you might also consider," "Higher performance jackets you might like," or "Customers who viewed X also viewed X." With many ways to say it, and hundreds more products that could be moved with these sales tactics, read on to discover 5 ways to upsell and cross-sell your uniforms, footwear and gear.
1. Create a Sense of Urgency
If you're looking for immediate action on a sale, give the shopper a reason to act! A great way to do this is by letting the customer know if there's a "limited stock" on a certain product or if it's "going fast." This technique is especially effective for an upsell or cross-sell with the use of a discount or promotion. You could say something like "We see you're interested in that jacket, so you should know this shirt that goes with it is on sale for a limited time."
Another thing to consider here is your seasonal marketing, especially after-holiday sales. Things like "Christmas items are now 70% off" will get people's attention. Remember, when offering some sort of discount or promotion you'll also want to be explicitly clear about the terms of the offer. For example, when does the offer expire, is it only good on certain items, are there exclusions, a limit they have to spend to get the deal, etc…
2. Incentivize Customers Toward Added Purchases
Doing this can boost your upsell/cross-sell conversion rate dramatically. Consider what other ecommerce sites are offering for added purchases — discounts, free shipping, or maybe even a free gift if the shopper spends over a certain amount. The "spend more, get more" sales tactic is extremely effective, especially if you're offering rewards for the larger purchase.
3. Use Round Numbers
If you go to virtually any store (online or brick and mortar), you'll notice some similarities. Something you might not have paid much attention to previously will all of a sudden be glaringly obvious. Practically every product on the shelves ends in either the number 7 or 9. We all know using these "charm numbers" makes the prices appear lower. And yes, technically they are lower, but often only by a penny! Are people really that much more wooed by a price if it's $0.99 versus $1? According to studies — yes. In his book Priceless, William Poundstone analyzes multiple studies on charm prices and found that, on average, they increased sales by 24% versus their nearby rounded price points.
So you may be wondering, "Then why on earth are you telling me to use round numbers?" According to consumer psychologist and retail consultant, Bruce D. Sanders, round numbers convert to sales better when you're suggesting an add-on sale for the first time.
"For the first upgrade decision, they're more likely to choose the higher-priced alternative when the prices for two are presented as round prices instead of as just-below prices. So if the prices on the bin tags are $19.99 and $29.99, the salesperson says, 'For only $10 more, here are the additional benefits you'd get.' The easy comparison facilitates acceptance of the upgrade" says Sanders.
4. Highlight the Value
Humans are emotional people. Whether you like to admit it or not, most often your decision making is driven first by emotion, and later by logic. Knowing this, listing out specs or all the nuances of the additional product hardly ever seals the deal. What the human mind resonates best with are stories and images. In other words, in order to effectively cross-sell or upsell a product, you need to make the shopper see the value.
As a uniform seller, you're often seeking to cross-sell items that go well with a product a customer is buying. Appealing to emotion, show them value via images by creating actual outfits that showcase different items that'd "complete the look."
Another way to show value is by telling a story. In some cases, your customer will purchase additional items of clothing because they can envision a scenario in which an extra item would come in handy. For example, a cook purchasing an apron might vividly imagine spilling a pot of red sauce all over it, making this BOGO deal you're offering that much more effective.
5. It's All About How You Say It
Keep things simple and make use of images to convey information quickly and easily. In the end, it all comes down to the way you present the item. Are complementary items automatically paired with others on the page for users? Are you clearly highlighting promotions and product features?
In paying attention to how you convey your items, you are making the shopper see in their mind's eye the benefits of purchasing additional, or more expensive products. Be more vivid with your descriptions and how you sell your products.
—
While we'd all like to consider ourselves rational beings, the truth is our decisions are mostly made by emotion. To effectively close a sale, or tack on additional items to an already established purchase, you have to get into the psyche of the consumer. You need to appeal to their emotions. Figure out their wants and needs, motivations and fears and then mold your sale accordingly.
Move your B2B business forward with innovative eCommerce solutions from UniformMarket, the uniform industry experts. Call us today to learn how we can help.