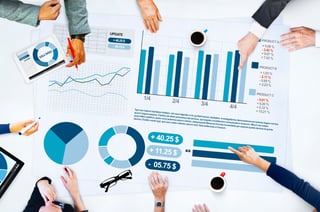 Over the past 15 years, Google's AdWords has emerged as the premier digital advertising tool (its runner up, Facebook, is not even one-third of Google's total market share). However, like much of the internet, it hasn't always been created for laymen.
The internet started as a niche, "geeky" space that has since been taken over by the masses. As this happens, we are seeing numerous platforms that were once developed for only the savviest technophiles being reimagined for mass users.
AdWords is no different, however, the amount of time to took for Google to give their advertising platform a facelift comes as a bit of a surprise. The search giant seemed to take the approach, "If it's not broken, don't fix it." Usability aside, AdWords still took in 15.5 billion (yes, billion) in just the first quarter of 2015. But it seems the seismic shift that is redefining the internet has finally rumbled the advertising hub.
That seismic shake? Mobile.
As uniform retailers, mobile has already revolutionized how we do business. From the birth of eCommerce to the ease of social media "shop now" buttons, mobile has encouraged innovation in digital shopping. Early adopters have touted the merits of mobile for years, but it wasn't until mobile traffic surpassed desktop traffic in 2015 that everyone started to listen, Google included.
In the spirit of the mobile revolution, Google has revamped their AdWords interface to resemble the simplistic and to-the-point mobile style. Instead of clouding businesses' dashboards with an overwhelming amount of data buried behind endless tabs, they've simplified it.
The facelift means that only the metrics that matter most to marketers will be seen. Not doing video advertising? Then don't worry about video metrics blocking your results. You'll only see data relevant to the campaigns you're running.
What This Means for Your Uniform Business
For uniform retailers, this is a dream. With this update, the data that really matters — conversions, physical traffic, and app downloads — will be holistically and clearly displayed through a slick interface.
This means your online advertising dollars can go slightly farther. Although the AdWords update in February did make any ad below slot five somewhat irrelevant, their backend makes it easier to spend your money right to get into those prime spots. By zeroing in on specific types of campaigns (video, retargeting, etc.) and getting clearer feedback on traffic trends and effective keywords, marketers can put advertising spend where the ROI is.
This shift allows uniform retailers to take a step back and look at the bigger picture. Instead of needing to zero in on each individual campaigns, retailer marketers can get a bird's eye view of the advertising picture they're painting, and ultimately spend their ad money more wisely.
Although Google's update isn't completely altruistic (they are making money on each dollar you spend) their overall goal is noble. Truly, they want to optimize the platform's look around the retailer's goals so that you can achieve your goals more easily.