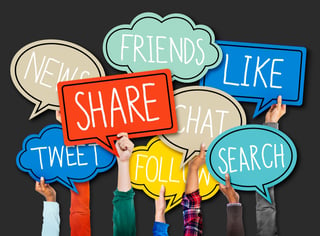 In our ever-connected twitterverse, it's no longer an option for your business to have a social media presence, it's an absolute necessity. If you don't consumers may assume you're an illegitimate business and take their uniform purchasing elsewhere. But this doesn't mean you need to be active daily on every social platform. We've created this guide to help you choose (and operate) the best social channel to promote your uniform store.
Twitter
A recent study found that 93% of all global B2B companies use Twitter as their most frequently used platform for social media marketing. And for good reason! Twitter is a great platform to build brand awareness and thought leadership. With Twitter's continuous stream of information this is a great channel to educate potential customers with information, updates, special promotions, and new products.
A strong uniform leader in the Twitter realm is Cintas (@CintasCorp). They remain very active on the platform with multiple, and more importantly, relevant tweets every day. A great way to build brand awareness is utilize, and promote hashtags, that are business or industry specific. It's important to make whatever hashtag you adopt unique and easy for users to remember — Something like #CintasCorp instead of #CintasCorporationUniforms.
LinkedIn
Just barely trailing behind Twitter in the above aforementioned study is Linkedin, with 91% of business-to-business companies using the platform as their favored channel for social media marketing. LinkedIn is another excellent platform for thought leadership. As a business you have the opportunity to highlight blog content, tell your audience about your products/solutions, and perhaps most importantly, network and connect with others that are interested in your brand.
The greatest benefit of this social media platform is its ability to make contacts and build relationships. Moreover, this channel allows your business to connect with executives and companies making networking that much easier. And from a marketing standpoint, LinkedIn allows you to run extremely targeted advertising by location, industry, title, company, and other segmented demographics. They key, however, to a successful presence on LinkedIn is providing your connections and groups with valuable, industry specific support and information.
UniFirst Corporation is a great example of a uniform company that is using LinkedIn to connect with their audience.
Facebook
It's nearly impossible to have a post about social media and leave off one of, if not the most popular, social platform today — Facebook. The most personal of the big social media network, Facebook is KING for building and boosting your company's likeability. And there's no better social platform to use for putting a human face on a business, so remember to keep your posts engaging, visual, and interesting (think things that others would want to share with their friends).
This is another great option for sharing your content or the content of others, as well as creating conversations around your industry. A strong uniform company on Facebook is Uniform City. They are active daily with posts that engage their fans. On any given day you'll see them sharing their unique website content, promoting special sales, and even contests like "Win It Wednesday" in which they pick winners for specific uniform sets.
Yelp/Google My Business
Review sites and directory listings are extremely important for businesses, especially those with brick and mortar locations. Shoppers are placing more and more emphasis on peer reviews so sites like Yelp and Google can literally make or break your business. These sites, especially Google My Business, also help with search by keeping your brand visible in search results.
If you haven't already, make sure to claim your business on Yelp. Once you can prove you're an employee of the company, you can then update the business profile with general information like hours of operation, website, address, phone, etc. Having accurate information is critical to your success on these channels. It's also advised to respond in a friendly and timely manner to any bad reviews. While you can't please everyone all the time, responding to negative reviews will show the community you care about customer satisfaction and are willing to take efforts to make things right with the disgruntled customer.
YouTube
While not necessary for all businesses the use of video is a great way to communicate information quickly and easily. This could be a great channel for new product launches or special demos. In fact, a recent study found that more than 70% of B2B buyers view product demonstration videos before making a purchase. G&K Services utilizes their YouTube channel by publishing lots of up to date and helpful video content showcasing events and their products and services.
You can also use YouTube to create how-to videos that can be used to help shoppers understand your brand. This is a great way to dissolve any questions a potential customer may have about your company, ultimately them to further their decision and purchase.
As companies increasingly adopt the use of social media marketing, it's easy to be overwhelmed by all the different networks; should you post, tweet, share, snap, instagram? This can lead to a tendency to overextend your brand on too many networks. Hopefully this guide we created will help you decide which social media platform is best to promote, market and grow your uniform store.
For more on UniformMarket and our services, click here.