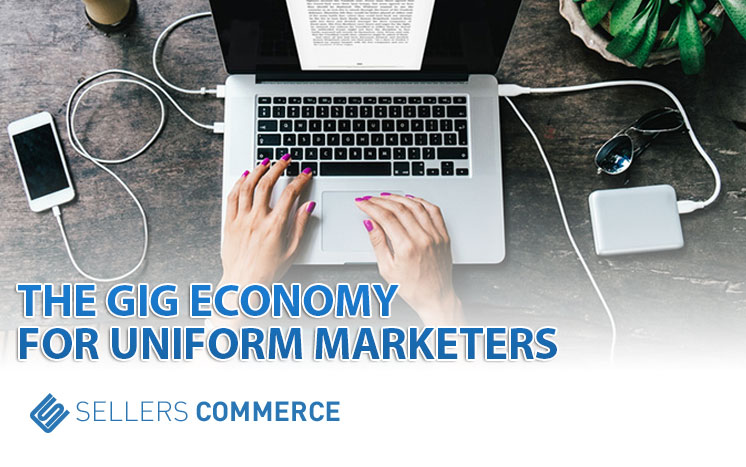 The rise of the gig economy is one of the most important events of the modern era. Rather than work through a larger company, millions of professionals are choosing to serve clients directly. As a uniform marketer, this new trend gives you the opportunity to hire a wide range of skilled specialists who can help you promote your company. The better you understand what kinds of freelance workers you can hire and when it is appropriate to hire them, the easier it is to take advantage of the gig economy. When marketing uniforms, these workers include:
Writers
Whether they're creating marketing content, ads, video scripts, or web pages, uniform companies frequently need quality writing for their marketing efforts. Freelance writers are often the best people to provide these writing services. Not only can they finish any extra work that your regular writing staff doesn't get to, but they contribute a unique voice to your brand, so that your content seems more varied and fresh to readers. You shouldn't get all of your content from freelance writers, as you need a dedicated team to provide consistency. But when you need extra content written or feel your readers would like a change of pace, freelance writers are a great option.
Artists & Photographers
A picture's worth a thousand words, and that's as true in uniform marketing as anywhere else. So it's no surprise that designing logos, taking photos, and otherwise producing visual images are major parts of most uniform companies' PR efforts. If you want a professional artist or photographer to take care of this but lack the funds to keep them on staff permanently, your best bet is to turn to freelancers. Through the gig economy, you can enlist the skills of independent photographers and designers for whatever period of time you need them. You can even compare these professionals based on past experience, hiring those who have done similar work to what you need. It's thus easy to get the best artistic services without making a major, long-term commitment.
Actors
As a uniform company, you may need to hire actors for any number of publicity activities. Perhaps you're taking pictures of each uniform and need to show how real people look in them. Or maybe you're creating an instructional video that shows workers how to put on and use your gear, something that works better with live actors. Similarly, you may want to create a video or a series of photos that depicts workers using your uniforms for daily activities; if you don't currently have many clients who will let you photograph their workers, it may be easier to use actors.
Here at UniformMarket powered by Sellers Commerce, we provide you with tools such as B2B Program Manager and Retailer Pro, which can connect you with the products and data you need for your employees or business. Whether you are a uniform retailer or an energy company needing to fit your employees with new uniforms and gear, we have the tools and services for you. Contact us for a demo today!