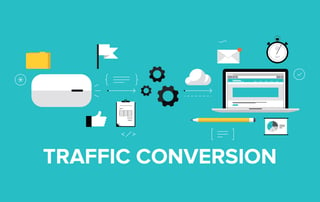 Measuring the success of your marketing strategy can be challenging, but knowing what's working —and what isn't — is essential to growing your company. All of your marketing efforts should include a measurable ROI. The good news is, for online marketing campaigns, ROI can be easily tracked. The data gathered through your website analytics can help guide your marketing strategy to ensure the growth and success of your company.
There are a number of B2B website marketing metrics that can help you track the progress and success of your marketing campaigns.
Total Conversions
One important measure of the success of your uniform website is total conversions — that is, how many visitors to your website are converted into paying customers. Total conversions refers to metrics that track all conversions, from leads to customers on your website (such as subscribing to your uniform blog, filling out a lead form, registering for newsletters, etc.) Depending on how your site is built, there are several ways to measure these conversions directly. In addition, Google Analytics offers marketers the ability to set goals and track progress.
Paying attention to conversions is necessary to understand how successful your website and uniform store are, as well as measure the effectiveness of your campaigns. Low conversion rates can be attributed to a number of factors such as ineffective design, bad offers, or ineffective calls to action.
It's important to understand that conversions don't always indicate a sale, but they do provide valuable information on visitors who took the time to do more than just click on your website and then leave.
By analyzing total conversions, you can gain visibility into the customer experience on your website, which enables you to make modifications that can improve sales without necessarily increasing your online marketing budget.